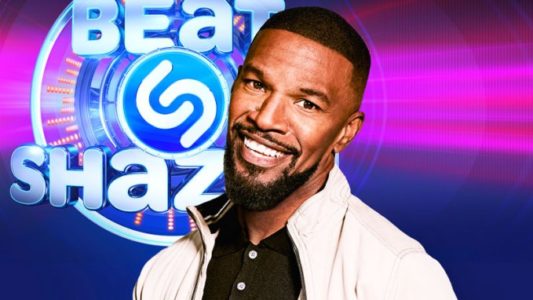 Shazam is a lot of fun. We're not talking about the superhero, or merely the word, though both have their obvious appeal as well. No, we're talking about the app that identifies songs. If you've ever been listening to music and thought, "I wonder what song this is," or "I wish I could remember the name of this song," then you want this fantastic app on your phone. However, if you're on the other end of the spectrum, and you can identify everything that plays, no matter how obscure, within a few notes, then you should probably be talking to Jaime Foxx on TV right now as a contestant on Beat Shazam. The only problem with a great show like Beat Shazam is that there never seems to be enough of it. The credits roll, and you're left with nothing to watch that's similar until next week. No worries though, we've got your back with five shows you'll like if you enjoy Beat Shazam.
1. Name That Tune
We're going to start the list off where it all began, with a little show called Name That Tune that began on NBC Radio in 1952. After reaching TV screens in 1953, Name That Tune, in which contestants were asked to name a song after hearing a snippet, ran for seven years. The story doesn't end there. After a seventeen-year break, NTT ran for another eight years between 1974 and 1981. Finally, after three more years, it came back again for a short run in 1984 as the show $100,000 Name That Tune. Over the decades since the original, more than twenty countries saw versions of Name That Tune, including places you might not expect like Azerbaijan and Vietnam.
In 2001, VH1 aired a variation of the popular show called Name That Video, which ran for about a year. Incredible as it may seem, there was yet another reboot planned for Name That Tune. In 2006, CBS was in talks to create a Name That Tune reboot. Ultimately it didn't pan out. However, the idea didn't die there. A Pilot episode was created in 2018 to try and bring the show back, but the network never picked it up, possibly because of Beat Shazam. Regardless, any one of the dozens of versions of this hilarious and melodic predecessor to Beat Shazam should help keep your musical entertainment going when Jamie finishes for the week.
2. Don't Forget the Lyrics
If watching people sing, and just as often fail to sing, is more your speed, then we highly recommend you check out Don't Forget the Lyrics. Hosted by none other than Mark McGrath, this show ran from 2007 to 2011 on Fox and was a karaoke-style competition that really put the contestants on the spot and in the spotlight. It seems Fox has a penchant for musical TV gameshows. Much like "Who Wants to Be a Millionaire," DFtL asked a single competitor to answer correctly, except their answers had to be in the form of a song, or part of one anyhow. Completing the lines from popular songs for increasing sums of money may sound easy, but it's not as many of the contestants showed. With a million dollars on the line for successful singers, and only the whole country watching when folks failed, the pressure was on. A few people took home the big bucks, but most of them couldn't find the words when the time came. The fails were often hilarious, and we'll admit we've binged watched back episodes a couple of times.
3. Drop the Mic
Moving on from (now) classics and popular music of times past, we'd like to introduce you to Drop the Mic, if you haven't already watched it. Drop the Mic was based on a segment from the Late Late Show: With James Corden and premiered on October 24, 2017, on TBS. However, this year it was picked up by TNT. The star-studded musical reality competition show has world-class musical talent, and lots of other big names in Hollywood stop by for an episode. Instead of watching typical contestants singing, the show had bands and other celebs going head to head for the title. If you ever wanted to see Riki Lake and Jerry Springer prove once and for all who knows how to work a mic, or Kevin Smith have a go at Jason Mews, you've missed out, but it's never too late to catch up.
4. The Hit List
We all know Britan's Got Talent, but how well do they know their music? This year, BBC One viewers spent their Saturday nights with Marvin and Rochelle Humes, finding out on The Hit List. Three pairs of contestants face off in three rounds of intense timed musical trials to see who has an ear for music, and who can't carry a tune, or at least who can't remember one. If you loved Name That Tune, then this modern British incarnation might be the perfect salve for your post-show blues when Beat Shazam is over.
5. The Masked Singer
We wanted to round the list out with another new Fox show that's all about the music. The witty and incredibly melodic costumed singers on The Masked Singer just aired their season two Holiday Special. However, for viewers who want to hear the outstanding musical talents without worrying about what they look like on stage, this is the perfect compliment to Beat Shazam. Doubtless, many of the faceless talents on TMS are already the ones singing the tunes for Shazam. Then again, some contestants aren't singers at all. It's a blast to watch them cover it all up and try to throw the audience off their scent as the incognito stars create a little mystery and a whole lot of laughs.
Final Thoughts
All of these fantastic shows are binge-worthy, in our opinion. More importantly, you don't have to go cold turkey at the end of every excellent episode of Beat Shazam. Moreover, if you genuinely love the show, you can get tickets to be part of the live audience when filming is going on. You can even check the Fox casting calls page to see if they have spots available if you think you might be the next one to Beat Shazam. What are you watching next? Tell us about it in the comments section.