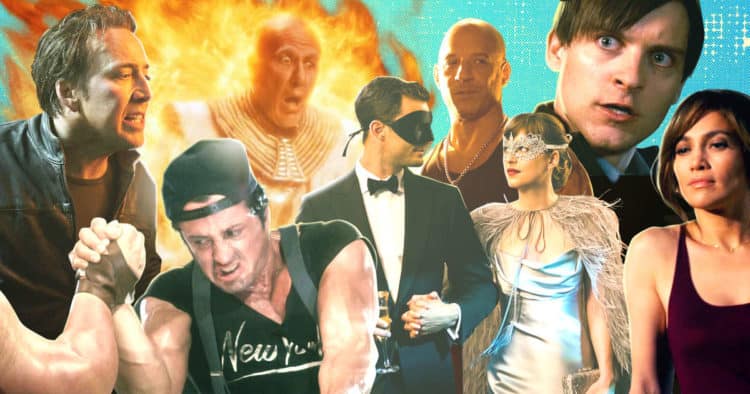 What really sucks is thinking a movie isn't going to be worth the price of a ticket or even $1 at a Red Box (those still exist, right?) because it looks so horrible. There are some premises that deserve a second look since they were worded in a way that feels reasonable and even attractive to the eye and ear, and there are movies that deserve a shot since they might have an interesting plot. Not all movies are going to fall under these lines of reasoning obviously, but there are some that have only a few redeeming qualities and are for the most part just kind of a garbage movie that the studio put out in order to test the waters or meet a quota of some sort. Some movies really didn't need to be made in the first place since they had a definite start and finish, while some could use a worthy sequel but never tend to get it. But knowing whether a movie is going to suck or not is still a guessing game even if you happen to follow the guidelines, since there are always pleasing surprises out there. Otherwise it's all a matter of opinion, and while no one has to care about yours, you can treat theirs in the same manner. Some movies just suck, let's be realistic.
Here are a few warning signs that a movie might really suck.
5. It's a sequel without the original cast.
This means that the original actors didn't want in on the project, couldn't find the time, or were embroiled in other projects. There are a ton of excuses that can be used as to why the originals didn't want to come back, but if the story is good enough then a lot of people don't tend to bow out of a sequel that they helped to make possible. The Fast and Furious did this with Tokyo Drift, though Vin Diesel did show up at the very end to give fans a bit of a jolt and to push a story idea that kind of made the whole story irrelevant to a lot of viewers that could possibly leave Lucas Black in the dust.
4. The best scenes are shown in the trailer.
This is the kind of buildup that's just downright frustrating since it gives a lot of people hope that the movie is only going to get better if the trailer is showing some of the truly iconic moments. Some movies manage to get better as they keep the truly mind-bending and jaw-dropping moments from being show, but too many of them drop the big moments to get peoples' attention and then have nothing else to give when people come to watch. The idea when playing this game is to have something still in the hole to flop when the viewer's not expecting it so as to keep them amazed and blown away in the best way.
3. The line "From the cast/studio that brought you…".
Seriously, if the movie can't stand on its own without being associated with other projects that the same studio or actors have been a part of, then it's not a good sign. If a person loves a movie then they'll have no trouble finding out that it was created by the same people that made another movie they happened to like. This kind of intro is like saying "Hey, you liked the other movie, so you'll kind of have to like this one." Yeah, it doesn't really work like that since too often a great movie will be followed with one that feels as though it was given half the effort since those involved are still exhausted from making the blockbuster.
2. There's no reason for the sequel to exist.
Really, some movies don't need to be made as the original went from A to Z without any huge questions that needed to be solved. A lot of people would argue that there are always questions to be asked, and they're right to be fair. But the questions that come are usually things that fans want to know about and that could be explained in various ways. Making an entire movie just because the first one was great invites disaster since the plot begins to thin quickly and the enjoyment goes the same way once one sequel and then another is made. Of course the money is bound to be there, but after a while a movie can become a mockery if the sequels aren't stopped soon enough.
1. It's a remake/reboot.
Let's be realistic, there have been some decent remakes and reboots, but not many. A reboot doesn't imply that the original is worthless or needed to be fixed, but it does imply that someone had a different vision of the story and wanted to release their own take on it. Unfortunately so many fans are so deeply rooted in the movies they like that trying to convince them that a new version of it might be better is a serious uphill battle that is hard to win.
Sometimes you can just tell, but at other times listening to the guidelines is how to know when a movie is about to suck.