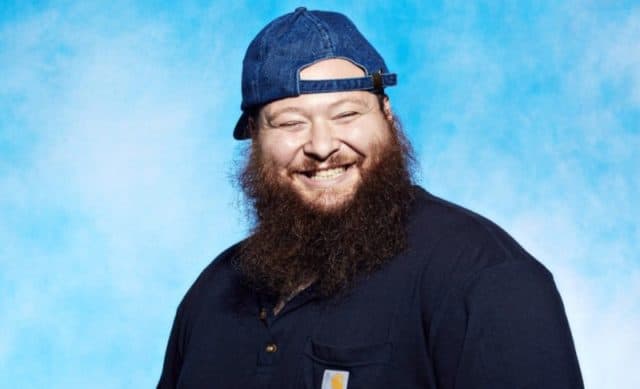 Action Bronson is the kind of person that you look at and probably start thinking about in terms of how best to sum him up. Some would likely make a lot of preconceived notions based on his appearance, his stage name, and a few other things they could point out. Personally when I first saw his picture I thought was looking at another version of Bray Wyatt from the WWE mostly because of the beard and the big, wide smile, but obviously that's not the case. His fame was established several years ago and he's even been nominated for a couple of awards on BET, but apart from that not a lot of people know about him unless they're fans of the underground and tend to follow artists that are considered to be new, hip, edgy, or on the rise.
Right at this moment I'm not sure where to put Bronson on that scale but it would seem he's doing his best to be on the rise.
5. He's a rapper.
He cites rappers like Nas and Wu Tang Clan, among several others, as his inspiration, and for the most part has been seen to be skilled at what he does if not wholly successful. That could be in part due to his controversial raps that will be discussed further in just a moment. The one thing most rappers need to know no matter how fringe they want to get is that as muddied as the line can get there is still a line that a lot of people don't want to see crossed in terms of music.
4. He used to be a chef.
At one point he was a very well-respected chef in New York and had his own online cooking show, Action in the Kitchen. He did fairly well and was able to secure some notoriety. After he broke his leg though he decided to devote all of his time to his hobby, which was rap music.
3. His real name is Arian Asllani.
His father is an Albanian Muslim and his mother is a Jewish American, and he was brought up in the Muslim tradition. He's very proud of his heritage and never shies away from it as far as has been seen. It's not odd to think of a man raised as a Muslim rapping, I'm sure that any person in any culture has plenty to say when it comes to life.
2. He's been uninvited from more than one show he was scheduled to do.
Unfortunately for Bronson some of his material has been deemed too controversial at times. In 2016 students lobbied to get him removed from the Spring Fling at George Washington University when a song titled Consensual Rape came to light. It was also stated that a lot of his lyrics were homophobic, transphobic, and misogynist as well. Bronson apologized sincerely as he told people that his songs told a story and weren't meant to offend. Sometimes you've got to know your audience though.
1. He's made four mix tapes since 2011.
He hasn't produced a whole lot of work in the last seven years but it's been enough to get him nominated twice on BET. So he must be doing something right.
It could be he just needs to find the right outlet and then he'll take off.