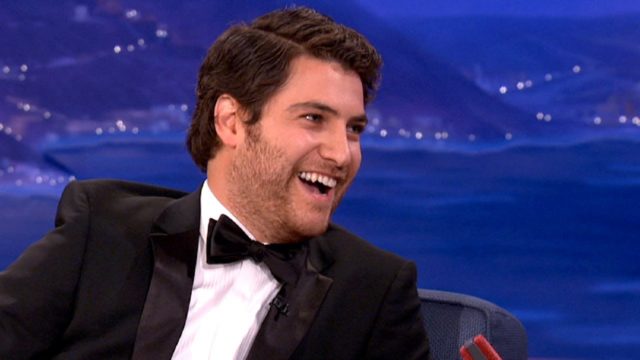 There are few lines of work as stressful and pressure-filled as acting. Popular actors are subject to constant scrutiny, with their every mistake broadcast in the media for millions of people to see. Some have made mistakes which unfortunately captured a great deal of media attention, like when Adam Pally was charged with possession of drugs.
However, fans should remember that these instances should not outshine a long and successful career. Pally is a highly talented and accomplished performer in a number of media. He may be best known for his role in The Mindy Project. For those who want to know who he truly is, here are five of the most interesting facts about Adam Pally.
5. He did a 50-hour live stream
While Pally rose to fame thanks to his acting and comedy, he has also captivated audiences with some unorthodox endeavors. One of the strangest was in 2015, when he live streamed himself watching every episode of Entourage back-to-back. To do this, he worked with comedians Gil Ozeri and John Gemberling. The group watched the entire series without any breaks, which took about 50 hours to complete.
4. He has created several Internet shows
With today's technology, actors do not have to restrict their skills to film and television. Instead, they are able to connect to audiences all over the world thanks to the Internet. Pally has been extremely successful in this field, especially through Funny or Die. His most popular online work has been a series called Riding Shotgun with Adam Pally in which celebrities have conversations with him in a car. His segment David After Divorce has garnered millions of viewers on YouTube.
3. He is well educated
Pally has earned thousands of fans thanks to his seemingly effortless comedic wit. However, he has actually invested a great deal of time and money to hone his craft. In 2004, he graduated from the prestigious New School University in New York City. He actually studied at the University of Arizona, but would transfer to the New School at 19 years of age. When he arrived in New York, he also began studying at The Upright Citizens Brigade Theater.
2. He is very experienced in improv
While his work on Happy Endings and The Mindy Project may be his most notable work to date, Pally also has an extensive career in comedy. He first began by doing improv and sketch comedy in New York at the Upright Citizens Brigade Theater. He has continued to perform for the theater company in LA. He is also a member of several improv groups such as "Hot Sauce" with Gil Ozeri and Ben Schwartz.
1. He started a production company
In addition his incredible talents as a performer, Pally has also seen great success as a producer of hilarious content. Alongside comedians Dan Gregor and Doug Mand, Pally founded Chubby Skinny Kids, a production company. The group has produced many videos which have been featured on Funny or Die.
Conclusion
Adam Pally has been in the news for many reasons, but none more important than his long career of hilarious performances. He is a highly gifted actor who also has an extensive background in improv and sketch comedy. With his talent, education, and work ethic, he will undoubtedly continue to see incredible success in Hollywood. Fans can look forward to seeing much more of Pally in film, television, and Internet productions.