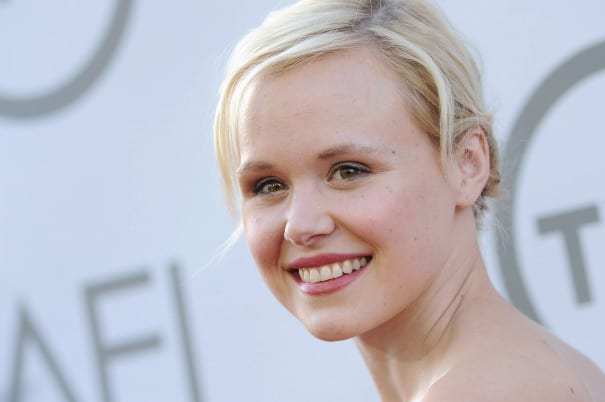 Alison Pill is an actress who is best known for her role as Maggie Jordan in the series "The Newsroom." She also gained more recognition as Willa Warren in "The Family," and most recently as Ivy Mayfair-Richards in "American Horror Story." We know that she's a good actress and she makes her characters believable, but there is much more to this talented actress than people may realize. Here are five things about her that you most likely did not know.
1. She was a child actress
By the time she was ten years old, Alison knew that she wanted to become an actress. She joined the Toronto Children's Chorus and landed a job as a narrator of children's audio books. Her first role in film was in "Kung Fu: The Legend Continues," in 1993. Her debut wasn't a big part, and even though she was a background performer, it's not bad for the tender age of 8. After this role, she acquired an agent and began booking regular roles by the age of eleven.
2. She is a successful theater actor
Most fans just know Alison from the television series' she's appeared in, but she's done a lot more than that. Much of her professional success has been earned through her appearances on stage. She was even awarded a Tony nomination for her role in "The Lieutenant of Inishmore." This was quite an honor for the young aspiring actress. She has a wealth of acting experience under her belt.
3. She is Canadian
Alison was born in Toronto, Canada. Her birthday is November 27, 1985. Her father is of Estonian and Swedish descent. He made his home in Canada where he raised his family. Pill later moved to New York City after her acting career began to take off. This put her in closer proximity to the theater which was a good move that paid off well for her in terms of success. She didn't have any problems landing roles on the stage.
4. She has a family of her own
Allison Pill had a long engagement to actor Jay Baruchel. The relationship lasted from December of 2010 to March of 2013. The couple went their separate ways without marrying. She met her current husband Joshua Leonard and they married in 2015. Their engagement only lasted for four months before the couple wed. They welcomed their child, Wilder Grace Leonard into the world in late November of 2016.
5. Lorna Luft is a personal friend of hers
Although there is quite an age gap between the two, Alison is proud to name the veteran actress Lorna Luft as a friend. The two met during the filming of "Life with Judy Garland: Me and My Shadows" in 2001. Alison played the role of the young Lorna Luft in two episodes of the series. This was a boost for her career. Lorna was the sister of the famous "Wizard of Oz" star Judy Garland. The show detailed the life of Judy throughout her successful, yet troubled career until the time of her death. It was Lorna's perspective on what it was like to live with her famous sister. Lorna was also in the movie industry, but was somewhat overshadowed by her sister's tremendous success.
Save