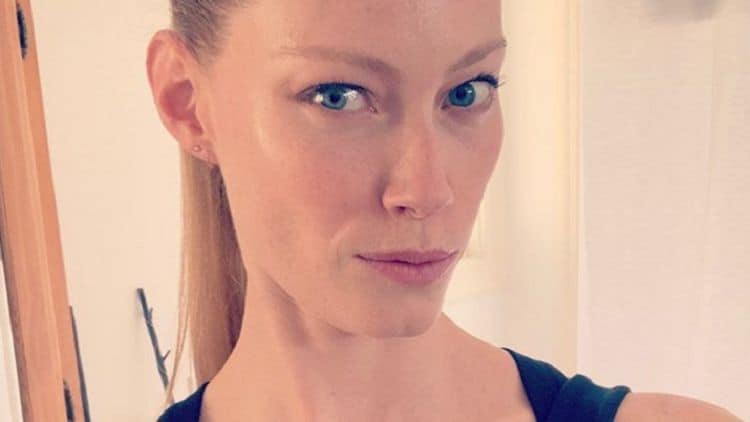 There are many reasons why so many models have made successful transitions to acting. Not only do models possess the looks and presence that it takes to stand out on screen, they are often actors who are using modeling as an entry point to acting. One highly successful model who has become an accomplished actor is the talented Alyssa Sutherland.
Sutherland is best known for her work in notable productions like The Devil Wears Prada and Vikings. She can now be seen appearing in The Mist. However, despite her impressive career, she is only beginning to be known by a wide audience. To help fans get to know this amazing performer, here are five of the most interesting facts about Alyssa Sutherland.
5. She was the Flake Girl 
One of the most high profile commercial jobs an actor could hope to land in Australia is the role of "Flake Girl" for Cadbury advertisement. Sutherland's status as a prominent model was cemented in 2007 when she got this coveted job. She, among other actors, used her platform to voice her opposition to Cadbury being sold to a buyer who was not from Britain.
4. She is married to a director 
Sutherland's life has centered on the entertainment industry for many years. As such, it is no surprise that she is in a relationship with someone who is also immersed in the industry. In 2012, she married director and writer Laurence Shanet. Shanet is an award-winning director and writer who has worked on productions in a wide variety of media, including web series and commercials.
3. Her modeling career was extensive
Sutherland is becoming widely known thanks to her incredible performances in high profile films and shows. However, she is a distinguished model whose career should also be appreciated. She has appeared in ads on television, in print, and has done a great deal of runway work. Some of the most notable brands who have hired Sutherland for advertisements include Ralph Lauren, Calvin Klein, Chanel, and Hugo Boss. She has appeared on the cover of such magazines as Elle Germany, Glamour Italy, and Vogue Australia.
2. She earned her start in modeling by winning a competition 
Modeling is a famously difficult industry to break into. While some models are discovered by agents, Sutherland ensured that her name was known by entering one of Australia's biggest modeling competitions. She won the prestigious Bonne Belle competition put on annually by Girlfriend in 1997. This led to her being signed by Vogue Australia, her first notable work in modeling.
1. She debuted in a massive production
Even for successful models, finding a career in acting can be a difficult proposition. Many models initially take small parts before graduating to larger productions. Sutherland, on the other hand, jumped straight into a high profile picture. Her first film role was in The Devil Wears Prada, one of the biggest movies of 2006. She has continued to perform in notable productions such as Vikings and now The Mist.
Final Thoughts
Alyssa Sutherland is quickly becoming one of the most sought-after performers in television today. While her acting career has only just begun, it has been filled with high profile productions. In addition to her acting talents, she is also a highly distinguished model. Her modeling career saw tremendous success, especially in advertisements for notable clothing brands. With her prominent role on The Mist, fans have a great deal to look forward to from Alyssa Sutherland.