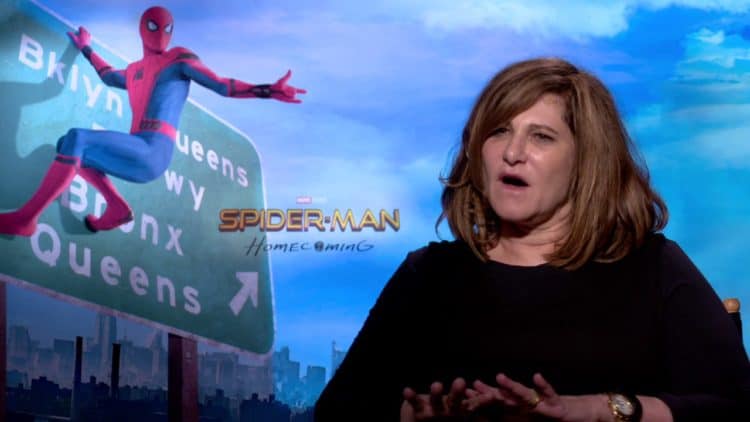 Although you may not know Amy Pascal by face or name, you definitely know who she is. As the former co-chairman of Sony Pictures Entertainment, she was a major player in the 2014 Sony Hacking Scandal (more on that later). Instead of fading away after she and Sony parted ways, she made an epic comeback as the producer of Ghostbusters (2016) and Spider-Man: Homecoming (2017). To give you a little more insight into the woman who was essentially cast aside by Hollywood, yet managed to produce a film that grossed $257 million worldwide in its first weekend, here are 5 things you didn't know about Amy Pascal.
She started her Hollywood career on the lowest rung of the totem pole.
In 1980, after graduating with a B.A. in international relations from UCLA, Amy got her first job in the film industry. She worked as a secretary for British producer Tony Garnett at Kestral Films. To move up in the company, she hired UCLA students to do all kinds of grunt work. Before long, she was awarded with a development position. After six years, she left to work at 20th Century Fox.
Although it was largely reported that she stepped down from her position as co-chairman of Sony Pictures, she later admitted that she was fired.
When Amy's emails were made public after Sony was hacked, she immediately came under fire in the media. In emails with producer Scott Rudin, she joked about Barack Obama's taste in movies, referred to "despicable" Leonardo DiCaprio, and dissed Aaron Sorkin, among other things. In February 2015, she announced she was leaving her position to start a "new production venture backed by the studio."
Later that month, Amy appeared at the Women in the World conference where she admitted in an interview, "All the women here are doing incredible things in this world. All I did was get fired."
Her emails also started a gender pay gap controversy.
In December 2013, Amy received an email from Andrew Gumpert, president of business affairs for Columbia Pictures. The email revealed that both Jennifer Lawrence and Amy Adams were given much smaller amounts of the film's earnings than their male co-stars, including Bradley Cooper, Christian Bale, and Jeremy Renner.
At the 2015 Women in the World event, she addressed the issue by stating, "I run a business. People want to work for less money, I'll pay them less money. I don't call them up and go, can I give you some more?" she said. "They have to walk away. People shouldn't be so grateful for jobs." In other words, women should stand up for themselves and refuse to work for less.
She had a hard time relating to "well-educated women who choose to stay at home."
In a 2006 interview, Amy admitted that she choose to put off having children while she worked on her career. She said, "The whole thing about getting these jobs and having families is that it's really hard. And the world didn't change. It didn't become any easier. The minute women got more powerful, there were all these stories about how nobody should put their children in childcare and how everyone should breastfeed."
This is part of why she admits to "not totally relating" to other educated women who opt to put aside their career and focus on family. She went on to say, "I would have worked no matter what. I was born and raised that way. It occurred to me to be married second." She married Anthony Weinraub in 1997 and had her only son in 2002.
She is a philanthropist.
Amy has served on numerous committees, signed petitions, and donated money for multiple causes. For example, she served on the Honorary Committee of the Epilepsy Foundation, has made contributions to Teen Line, a crisis hotline and message board for teens dealing with all types of issues, and was awarded the 2008 Humanitarian Award from the Simon Wiesenthal Center, an L.A.-based non-profit that promotes human rights and tolerances, while combatting anti-Semitism.