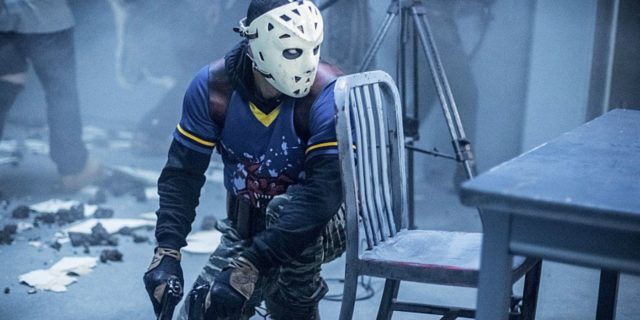 Arrow's "Wild Dog" is a part of Oliver's latest team and he isn't yet familiar to all fans. He's one of the newest vigilantes to make the scene, but the character is making waves and gaining a decent sized fan base. Most are pleased enough with his addition. Even though the character is a bit of a wild card, it is his passion and impulsiveness that offer a good contrast to Oliver's cold calculating hero ways. His role isn't big but fans are warming to the character. Here are five things that you didn't know about "Wild Dog."
1. This isn't his first rodeo
The minor comic character made his appearance in one of the Booster Gold issues where he worked with Green Arrow previously. In the Booster adventures of that time, Wild Dog joined the resistance movement adn battled Maxwell Lord alongside of Anthro, Pantha, Hawkman and Green Arrow. His appearance was brief and he wasn't one of the survivors of the mission, so fans may not remember him, but he was there and now he's back.
2. Wild Dog is a rich boy
Think about Bruce Waye who is secretly Batman and you have the equivalent in wealth with Wild Dog. He's a vigilante and he's also incredibly rich. He's not a billionaire, but he does have several million to fund his adventures. When Claire passed away, she had left her fortune to him and since he felt that he owed her killers for their dastardly deeds, he would use the funds to track them down and make them pay for what they had done to her.
3. Wild Dog is the equivalent of DC's The Punisher
Marvel and DC have been patterning their characters after one another for years so it's not surprising that Wild Dog is so similar to the Punisher. The character wasn't created until ten years after the DC character made his appearance so it's fairly obvious when we consider that both of them are ex military, they both prefer guns as their weapons of choice, each lost a close friend when they were in the service and neither have superhuman powers. Coincidence? We think not.
4. Wild Dog is seeking revenge.
When Jack Wheeler finished his tour with the military, he met Claire Smith and the romance began. Claire's family had a shady past and present but she was nothing like them. This wasn't something that the family embraced. Multiple attempts on Claire's life had been made and one fateful day, while out with Jack ,the assassins were successful. She died and left her fortune to him. Now Wild Dog is seeking revenge for the death of his sweetheart.
5. He is mortal with no superpowers
Wild Dog depends on weapons and some fairly impressive skills to perform his near superhuman feats. He has not been endowed with any superhuman abilitites. Perhaps this is some of the charm and charisma that his character exudes and it makes him all the more likeable. He doesn't have any special advantages over the creeps that he is pursuing. When he fights he's on his own.