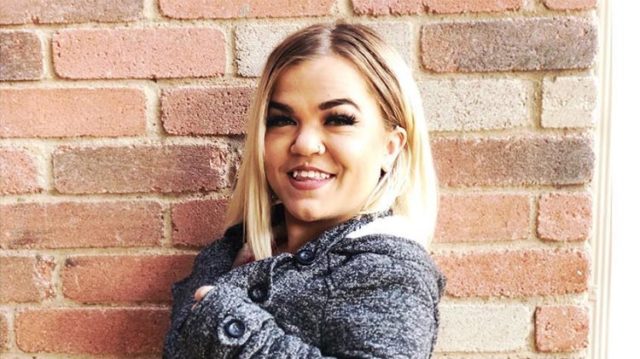 Caylea Woodbury was born in Salem, New Hampshire on July 15 1995. She worked as a dancer before appearing on Little Women: Dallas. She has a type of dwarfism known as Achondroplasia and has a sister; Chelsea. Caylea is one of the main cast members on Little Women: Dallas (women series that centers on friendship and love). She's the youngest cast member. She enrolled at Tint School of Makeup and Cosmetology in Texas and was awarded with a makeup artist certificate.
Caylea became pregnant in season 1 of Little Women: Dallas with her first child but miscarried after six weeks. Her friends are Britney Guzman; former Little Women: LA cast member and cast mate Tiffany Chance. She has also known cast mate Bri Barlup since her childhood. Caylea worked as a go-go dancer with Lil Twek before joining the cast of Little Women: Dallas.
Caylea will make guest appearance in season 4 of Little Women: Atlanta. She is currently dating D'Quan cage. Here are unknown facts about Caylea:
She Has Achondroplasia
Caylea's height is 4'0 since she has Achondroplasia. It's a condition that causes disproportionate dwarfism due to bone growth disorder. People suffering from this condition have short limbs and a normal sized torso. However, they're short in stature. It's rare for adults with Achondroplasia to reach a 5 feet height. This hasn't put Caylea down, she even admits that it only bothers her fans who keep staring at her. She says she feels good about herself and hasn't affected her self esteem neither has it stopped her from dating.
She is Friends With Britney Guzman And Tiffani Chance
Britney is former cast member of Little Women: LA. She joined the cast in season three. Before she became a reality television star, she was a professional dancer with Miley Cyrus. Britney is well known by her nickname 'FreakABitt'. On the other hand, Tiffany is Little Women: Dallas cast member. She was a cheerleader in high school before enrolling for a course in Cosmetology. She recently settled down with Austin Skovran, her average sized boyfriend.
Career
Caylea is one of the main cast members of Little Women: Dallas. The American reality TV show debuted on 2nd November 2016. The series revolves around the lives of seven little women with dwarfism and who happens to be friends.
D'Quan Cage is Her Boyfriend
D'Quan is a songwriter, singer and dancer. He's passionate about music since he comes from a musical family. He started dancing and singing at age 5 and learnt instruments when he was 6 years. Before relocating to Texas with his mother, he used to sing often in the Tri-state area. He sings with his mother and most of their songs have gone viral. In 2012, D'Quan made it to the 3rd round of the X Factor. Caylea and D'Quan also sing together.
She has known cast mate Bri Barlup Since Her Childhood
Bri is Little Women: Atlanta former main cast member and currently Little Women: Dallas main cast member. She was a club dancer before joining Little Women: Atlanta. She was also featured in 'Da Wop' song, rapper Lil Chukees music video. Bri appeared in Lifetime series 'Atlanta Plastic' season 2 episode in 2016; a show in which people had plastic surgery done. She underwent a breast argumentation.