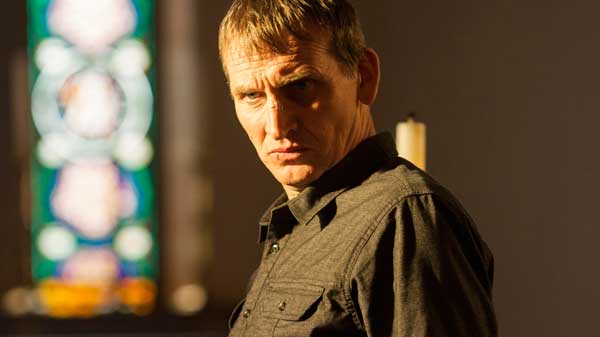 British actor Christopher Eccleston has been in the business for years, but is perhaps most well known for his role as the ninth incarnation of the popular Doctor Who character for one season.  His fans know that he's capable of rising above that as he made some impressive contributions as an actor in "Gone in 60 seconds," "The Others," "28 Days Later," and several other films. His supporters and die hard fans know that he's a great actor, but here are five things about Christopher Eccleston that you didn't know.
1. He is the youngest son born into a working class family
Eccleston comes from humble beginnings. His brothers Keith and Alan are twins and they are also eight years older than him. The baby of the family, so to speak, Christopher didn't have the advantage of money to help him in his acting career.
2. He didn't start acting until he was 25 years old
While many successful stars get their first start as a child, appearing in commercials, this wasn't the case for Christopher. His interest in acting didn't come until he was age 19 and was inspired by the television drama "Boys from the Blackstuff." He attended the Central School of Speech and Drama in preparation. At the age of 25, he made his stage debut in "A Streetcar Named Desire" in the Bristol Old Vic production.
3. Eccleston did odd jobs until he got his break
After graduating, Christopher was underemployed as an actor so he had to supplement his income. He worked at a supermarket, did odd jobs on construction sites and he even served as the model for an artist. He did these jobs in between the gigs that he was able to get in a few classics such as Moliere, Chekhov and Shakespeare stage productions. He gained recognition in the UK in his role as Derek Bentley in "Let Him Have It" (1991). He continued on to appear in a recurring role in the television series "Cracker" from 1993-4, but his character was killed off at his request.
4. Christopher Eccleston played the part of a real life friend
In 1996, he played the part of Trevor Hicks. Trevor lost his two daughters in the Hillsborough disaster of 1989 in the film "Hillsborough." Eccleston served as the best man for Trevor in real life when he was married in 2009, twenty years after the tragic incident and thirteen years after Christopher portrayed his friend on film.
5. Eccleston didn't get his drivers' license until 2004
Although he starred in the popular car heist film "Gone in 60 Seconds," he didn't have a lot of driving experience, well, not legally that is. He took his driving test at the beginning of 2004. In addition, the drivers' license that he was given came with restrictions. He was only allowed to operate automatic transmission vehicles. So much for speed shifting.
Save