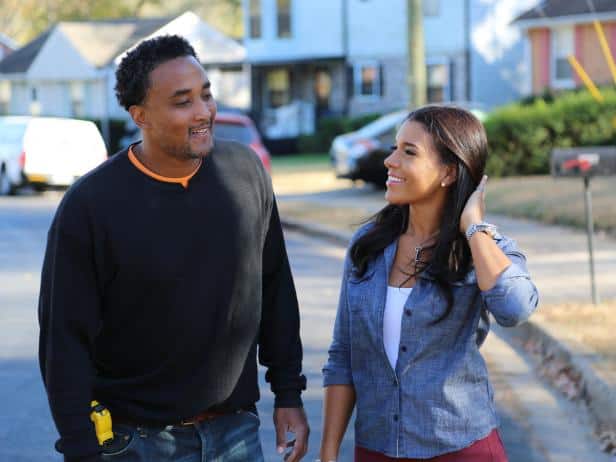 Flip or Flop Nashville, a spin-off of HGTV's original Flip or Flop, just premiered on January 18th of this year. Filmed in Nashville, Tennessee, the show follows the adventures of DeRon Jenkins and Page Turner as they find the worst properties they can, and turn them into gorgeous homes that anyone would envy. DeRon Jenkins is a licensed contractor, whereas Page Turner is a real estate agent. Together, the two make a powerful team on Flip or Flop Nashville.
If you are planning to check out the new show, especially if you liked the original Flip or Flop, a little background is probably in order. If you want to learn a little more about this new spin-off, read on to find out about Five Things You Didn't Know about Flip or Flop Nashville.
Page and DeRon used to date
The stars of the new show have known each other for over ten years. For five years of this time, they were dating. However, their romance fizzled out and they decided to focus on their working relationship instead. They have a very amiable relationship – their interactions are hilarious, yet they offer a unique combination of skills that help them get the job done quickly and right. Breaking up clearly didn't affect the way that they are able to turn old, dilapidated houses into dream homes.
DeRon Jenkins played in the NFL
­The cohost of Flip or Flop Nashville began playing football at Ritenour High School in St. Louis. After graduating, he moved on to playing for the University of Tennessee. He was eventually discovered by talent agents, and was drafted to the Baltimore Ravens. He spent seven years playing in the NFL, and he also began renovating houses at this time. It was probably all of his disposable income that let him build an interest in home renovation – and we aren't complaining.
This Show Originally Had a Different Title
The working title for the new show was Joined at the Flip. It was meant to reflect the original intent of the show – to focus on the drama that comes up when exes work together, and how DeRon and Page butt heads. The title was eventually changed to Flip or Flop Nashville to help potential viewers associate the show with something they already know that they like. So, it really boils down to a marketing decision.
The Spinoffs Were a Distraction
Alongside Flip or Flop Nashville, there are series coming out called Flip or Flop Paradise, Chicago, and Fort Worth. It is likely that these were on the backburner due to the volatility of Tarek and Christina El Moussa (of the original Flip or Flop). So, when the original Flip or Flop stars cancelled any plans to shoot more than five episodes, HGTV realized that they were about to lose a major show from their network. Instead of losing all of those viewers, they elected to release the spin-offs early to try to capture at least some views.
DeRon and Paige Have Immense Respect for Each Other
Both the renovator and the real estate agent consider themselves as being at the top of their respective games. They also recognize the talent and skills of the other. Despite their personal history, they do trust each other to make the best business decisions. They also have quite realistic expectations for one another, leading to possibly the most efficient and professional way of doing business with an ex.