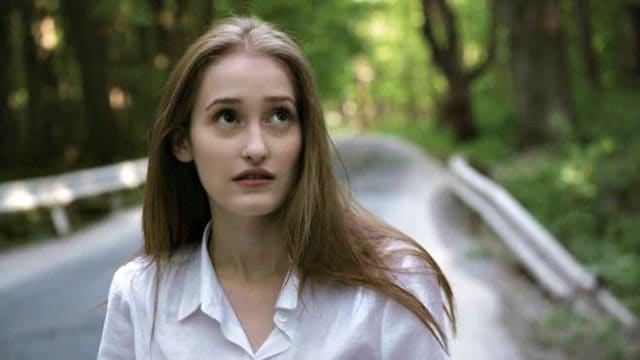 Gus Birney is an American actress who is just getting started in her career. She began four years ago at age 13 doing television commercials. It was a good start for the youth who is now known for her role in the movie "Darcy." She also appeared in an episode of "Chicago Med." She's already starting to gather a base of fans who want to know more about the cute 17 year old.  Now she'll have her chance in the series "The Mist."
Here are five things you didn't know about her.
1. Gus was born into show business
Gus comes by her talent as an actress. There are several talented and accomplished actors in her family. She may have waited until she was a teen to embark on her career, but after all… school is important. Her father, Reed Birney is a Broadway actor who has won a Tony Award. Her mother is Constance Shulman who plays Yoga Jones in "Orange is the New Black." Constance also won a Screen Actors Guild Award.
2. Gus has performed in theater
She appeared in the "Connected and the Rose Tattoo" production in 2016 alongside Marisa Tomei. Theater is in her blood and she appears to be following in both her mother and her father's footsteps. Her parents have a great deal to be proud of.
3. She's moving up in television
Gus may have just received her first real break in show business. Her role as Alex on "The Mist" is an exciting new adventure. It will give her exposure as a regular on a television series, which will help current fans to become more familiar with her. It will also help her increase her already growing fan base. She's not terribly well known yet, but it looks like that is about to change. Getting in on the ground floor of a new series is a lucky break and if it becomes a success, her popularity is likely to skyrocket.
4. Gus Birney is a planner
She shared in a recent interview that she likes to know the direction that she is going. Gus is frightened by not knowing what the next year may hold for her. This is understandable because she is embarking on a career with demands that could make it necessary for her to change her location. She is fully aware of this and although her preference is for more control over her destiny, she's committed to her decision.
5. Her parents are supportive but preferred a different career for her
She currently lives in New York with her parents. She also shared that acting is not an easy life and her parents would rather that she had chosen a profession that is not as difficult, but she couldn't think of anything that she'd rather do.
Final thoughts
Gus Birney is a remarkable young lady who has a lot to offer the entertainment business. It's great that she's getting her shot. She has a good foundation for her chosen career in her parents who are stand by to give advice and encouragement. We're all looking forward to getting to know her as Alex in the brand new series "The Mist."