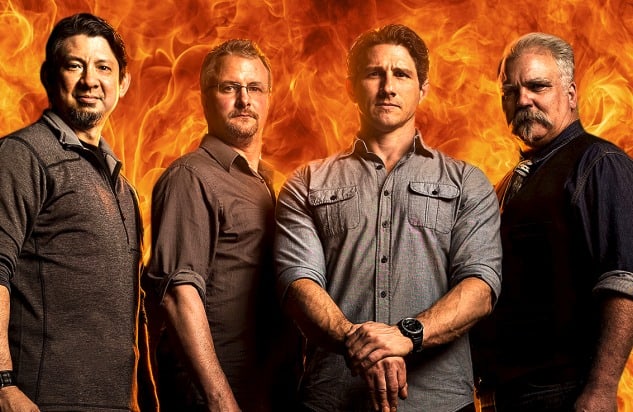 Forged in Fire is an original competition series hosted by weapons expert and U.S. Army and Air Force veteran Wil Willis, featuring world-class bladesmiths competing to create history's most iconic edged weapons. In each episode, four of the nation's finest bladesmiths come together to put their skill and reputations on the line, trying to avoid elimination and win the $10,000 prize. They use sweat, fire, force of will, and a well-equipped forge to turn raw material into authentic, fully functional implements of war. These weapons must stand up to a battery of strength and sharpness tests, as well as the critical assessment of our expert judges David Baker, Doug Marcia, Ben Abbott and ABS Master Bladesmith J. Neilson.  Here are five things you might not know about the show:
Host Wil Willis is a veteran with more than a decade of service in the US Military
Forged in Fire is hosted by Wil Willis, a former United States Army Ranger and Air Force Pararescueman who has had hands on experience with a wide range of weapons, and on the show, often offers invaluable insights about the bladesmith's creations from a practical combat-informed perspective.
The bladesmith community is widespread, and the smiths featured on Forged in Fire hail from all across the country
With the series on the air for three years now, casting is receiving more submissions than ever from smiths across the country who want to challenge themselves in the show's unique pressure cooker environment. In recent years, the show has also witnessed the already surprisingly large bladesmith community grow even further, with people who have picked up and developed the craft since Forged In Fire's premiere on History in 2015.
The series is produced by Outpost Entertainment
Outpost Entertainment, the ITV America banner that develops and produces a broad range of unscripted television content, produces Forged in Fire for History Channel. The company also recently produced A&E's documentary special Guilty: The Conviction of O.J. Simpson, as well as projects including Engineering Disasters and Car Hunters for History, and Brainstormers for Weather Channel. Outpost is helmed by veteran television executive Jodi Flynn.
Forged in Fire is History Channel's youngest-skewing TV series, in terms of viewers
The series has always been well-received by a younger demo, dating back to its first season in 2015. As it's audience continues to grow season-to-season, Forged has maintained that young audience and enters Season 5 as the youngest-skewing series on the network.
Season 5 asks more from its competitors/bladesmiths than ever before
In the new season, premiering Tuesday, March 13 at 9/8c on History, the difficulty level has been raised, with challenges featuring techniques and requirements that the show's competitors have never been tested with before. The smiths' skill levels and aptitude for the competition has increased as the series as grown, and as a result, Season 5 features the best work yet from competitors, and under the toughest of circumstances.