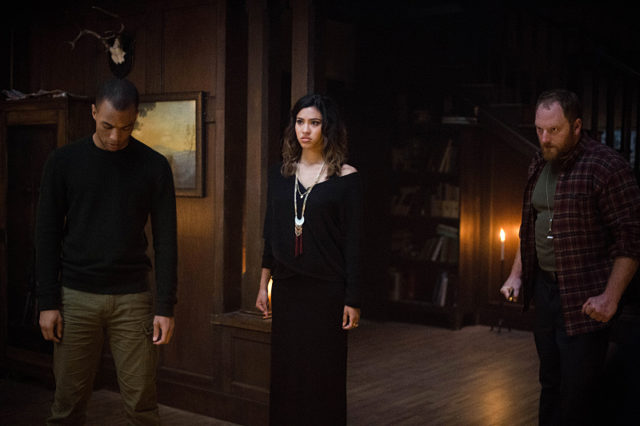 Kara Royster is a star on the rise. She's best known for her roles in television shows including Pretty Little Liars, Faking It, and Hollywood Heights. Most recently, she was cast as Alicia Banes, who hunts along with her brother Max; both raised by a witch. Kara describes her witch hunter character as "badass".
In an interview with Carol Hansson on movietvtechgeek.com, Kara said that the Supernatural filming experience was amazing. She worked with CGI, and was nervous because she had to wait for the finished product to see the results. She said filming took place in Canada, where she explored Vancouver. She holds dual citizenship, so the trip was even more meaningful to her.
Her role as Alicia required that she discover the connections inherent in a brother and sister, fraternal twin relationship. She noted that the challenging role allowed her to create a completely new character. On set, she enjoyed playing the game she always plays. It's called Pet Peeve and Simple Pleasure. She would make the rounds of the cast, asking them to answer one thing for each peeve and pleasure. The answers were always interesting, and everyone caught on to the daily fun of it. She enjoyed her guest star role, and was surprised at how quickly she felt natural with the show's unique vocabulary. She quickly added "wendigo" and "devil's trap" to her normal speech patterns.
With all the unusual challenges she has undertaken, the trivia about Kara isn't trivial at all:
Kara volunteered at the Los Angeles Mission Thanksgiving Meal for the Homeless making stuffing.
She and Chase Ferreira teamed up to work on the stuffing. She said adding clams to stuffing works great, but really doesn't like oysters in stuffing. Kara volunteered for the November 23, 2016 event along with stars August Maturo from Girl Meets World, Mattie Faith, McKenna Grace and Kayla Maisonet. The stars donned bright red aprons with the words "Los Angeles Mission" printed in white and served the hundreds of guests at the meal with tireless enthusiasm.
Mono was her first big feature film debut, and a digital movie; which she loved because she is "addicted to Netflix".
The comedy about an outbreak of mononucleosis at a high school, where the outcasts take over the school when all the popular kids come down with the virus had Kara enjoying a hectic schedule. She said they filmed during summer session, so it was kind of like being in summer camp and having fun. The cast members were running and using scooters to get around, so everything was active and tons of fun. They did a lot of night filming from 5pm to 2am, so many of the party scenes were actually parties. She lived on Twizzlers and coffee throughout the shoot.
She said the work with viners was incredible and she found them to be talented and professional workers. Everyone on set was dedicated, hardworking and editing their work all the time. Some of the little vines and unexpected "girl walks by" appeared in the film. She told them that she was excellent at cartwheels. She performed, they recorded her, and it ended up in the film.
She attended LACHSA and did work on make-up as a sub-category of her studies.
LACHSA is the acronym for the Los Angeles County High School for the Arts. The school is located on the campus of California State University Los Angeles, and features academic classes in the morning, and a full range of arts classes in the afternoons. Her family moved from Florida to Los Angeles while she was attending school. Her sister has been her acting coach, her mother helps her pick out her clothes, and her dad supports her with positive words.
She always pretends to sip out of water cups so that filming continuity is maintained.
She says she is so concerned about making things perfect, and easier, that she is obsessive about her water levels. She always looks for continuity in water levels in other films, too. She doesn't want anyone to catch her with uneven water levels in her scenes.
She waited a long time to get SnapChat because she was fearful of sending mistakes out into the universe.
She was so afraid to do something wrong, that she avoided the social media opportunity until she felt ready. She studied up on it first. Then, she tentatively started posting once she figured out how it works. She now has social media feeds on SnapChat, Twitter and Instagram, and all of her addresses are the same: @KaraRoyster She said she tried to come up with creative names for herself on social media, but discovered that people couldn't find her, so she made it simple and easy to find her.
Kara's ready smile, cheerful announcement that she wears size eight shoes, and frank admission that she binge-watched Supernatural are all part of what contribute to her rising popularity. She always seems filled with energy, and excitement about whatever experiences come her way. That's star quality, for sure!