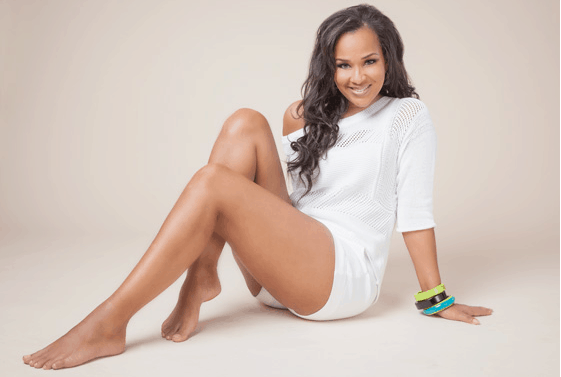 If LisaRaye McCoy looks familiar to you it could be that you've seen her onscreen before. If you go by this picture it almost looks like she hasn't aged a bit in the last fifteen to twenty years, but she's now in her early fifties and still looking absolutely flawless. Her acting talent has never gotten her noticed to a great enough degree to be considered a superstar but she's made out just fine in a career that's spanned since 1994. She's been fun to watch and has more than just beauty to offer when it comes to her acting talent. At this point she could still pass for someone in her thirties it looks like if such a role popped up.
Honestly, she looks amazing for her age.
5. She's a grandmother.
Her granddaughter was born in 2016, so she's not a well-seasoned grandmother yet but at least gets the joy of spending time with her grandchild when she finds the time. A lot of favorite actors are now grandparents if not great-grandparents as the years continue to roll by. LisaRaye is one of those few that doesn't look like she's old enough to have more than a grown kid however.
4. She has her own fashion lines.
She opened up her own line of lingerie in 2005 and her own jean collection in 2011. Since then it seems like she's been pretty comfortable with the profits and hasn't had to worry too much about where the money to continue her lifestyle has come from. This is something you tend to see with a lot of celebrities. Some of them will start other ventures younger in anticipation of what might come later in their career.
3. She's an actress.
Her filmography isn't that extensive but it's still impressive enough to be called a worthy career. She's been in a few different films and been nominated for an award before. Honestly if you really want to talk about her acting career it's been more of something she seems to have done to show that she's got talent, which she does. She's a good actress to be honest.
2. Her mother was a model.
I had to add this in as a way of making the connection to why she would want to perform in front of others and perhaps find the inspiration. Some actors never had parents that were in any kind of performance job. As a model however her mother might have had some influence on LisaRaye when it came to her acting career, but most certainly when it came to fashion. Kids tend to emulate their parents in some way as they grow up whether they realize it or not.
1. She played Diamond in The Player's Club
The Player's Club was a released in 1997 and it was a film depicting the life of Diana Armstrong, aka Diamond, as she worked her way through the Player's Club, a dive strip joint that she uses to make money to support her education. Throughout her time at the club she sees a lot of shady things and has to attempt to rescue her cousin when things get way out of control.
She looks just about the same as she did back then. That's impressive.