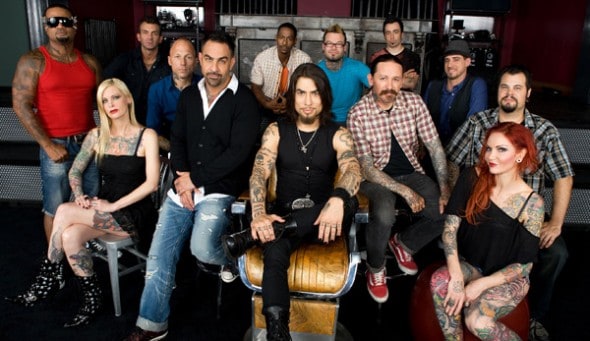 Each week "Ink Master" puts artists through a series of tattoo challenges that not only test the artists' technical skills, but also their on-the-spot creativity, as they must create and execute an original tattoo on a "human canvas." Each episode focuses on a different and distinct style of tattooing such as realism, black and gray, and American traditional. The masterpieces the artists create will last a lifetime – and so will their mistakes. After every challenge, the contestants face a tough panel made up of series host Dave Navarro and world renowned tattoo artists Chris Nunez ("Miami Ink") and Oliver Peck (Elm Street Tattoo). The show's Season 10 finale airs Tuesday, April 24 at 10/9c on Paramount Network.   Here are five things you didn't know about "Ink Master"
The competition format changes season to season
Every new season of Ink Master brings a different competition for the skillful artists assembled. Keeping the game fresh and the artists on their toes, previous seasons have featured themes including: "Master Shop," where artists competed in duos, representing different tattoo shops across America; "Peck vs. Nuñez," where show judges Chris Nuñez and Oliver Peck squared off, each coaching their own team of artists through the competition; and "Master vs. Apprentice," which saw renowned artists and their talented protégé's go head-to-head for the Ink Master crown; among many other iterations.
The 10th season brought three "Masters" back as coaches
The theme for the current season, which will conclude tonight, is "Return of the Masters." Three previous "Ink Master" winners – Steve Tefft, Anthony Michaels and DJ Tambe – returned to the show as "coaches," and were assigned different groups of artists to mentor throughout the competition. Tonight, as three new artists battle it out for the Ink Master crown and the $100,000 grand prize, Tefft, Michaels and Tambe will also square off for $100,000 of their own.
In addition to its male fans, Ink Master has amassed a strong female following over the years
While the series' overall popularity has consistently grown from season to season, female viewership has risen immensely. Between Season 1 and Season 9, the series grew +63% in Women 18-49. The Season 9 premiere was the highest-rated in series history, among women, and Season 10 still ranks #1 in its time slot on Tuesday nights, among Women 18-49 (and People 18-49).
The show inspired spinoff series Ink Master: Angels
The show's success spawned spinoff Ink Master: Angels, which debuted in 2017 and follows three fan-favorite female artists from Season 8 – Ryan Ashley, Kelly Doty and Nikki Simpson – as they travel the country and take on the best tattoo artists in the nation. The show is already in its second season, airing Tuesdays at 9/8c on Paramount.
The show is produced by production company Truly Original
Truly Original is one of the industry's most prolific producers of unscripted programming. The company is run by Emmy-winning producers Steven Weinstock and Glenda Hersh, and in addition to Ink Master and spinoff Ink Master: Angels, Truly Original also produces Swamp People for History, Vanity Fair Confidential for ID, The Real Housewives of Atlanta,The Real Housewives of Potomac, Don't Be Tardy, Shahs of Sunset, Summer House and Stripped for Bravo; BET's ManCave for BET, Comic Book Men for AMC, Hack My Life for tru TV andVH1 Beauty Bar for VH1.