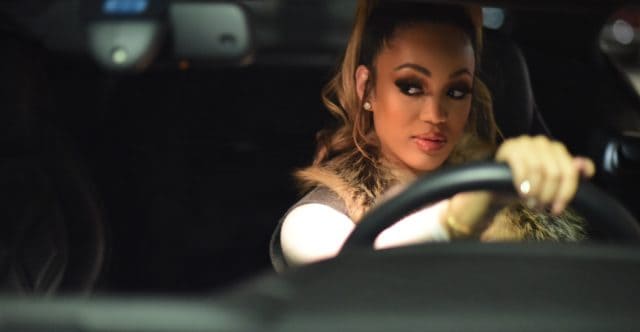 Telli Swift is a combination Black and Filipino powerhouse of a woman. She's fluent in English, Tagalog and Japanese, and has lived around the world. She's currently the love of Deontay Wilder; WBC heavy weight world champion. Telli will star as one of the lovely ladies of WAGS Atlanta, which is premiering January 3 on E! along with Deontay, and lend their personal touch to the new show. She's creating a new app which will give women all sorts of advice about timely issues. She and Deontay continue their support of the Spina Bifida association, promoting awareness about the condition. Telli will bring all her business acumen and personal motivations to the show, and it's looking to be great.
Telli included her favorite recipe for lumpia on her website.
The website has just been relaunched, and she's added a personal blog and her favorite recipes so that people can get to know her a little better. Lumpia is a traditional Filipino appetizer. It's a fried delicacy made with ground pork, onions, garlic, carrots, green cabbage and spices. The thin pastry wrappers are very much like those on egg or egg rolls, but lighter and flakier. They are fried in oil until a light golden brown and served with a tangy sauce.
Telli has a Savannah cat.
The breed is banned in some states, so Telli encourages fans who'd also like to own one to check into local state laws before spending the money on one. She purchased her's from a breeder in Kentucky. Savanna cats are hybrids. They are bred by crossing a serval with a domestic cat. Servals are wild African cats with large ears and medium-sized bodies. Telli's Savannah cat has the typical dark brownish black spotted pattern on its coat, and is a beautiful cinnamon color.
Telli was accused of stealing a purse at Dolce & Gabbana at Beverly Center.
She posted on Instagram that she was a victim of racial profiling. She wants to let everyone know that it's still a huge problem in the United States. It just happened on January 2, and she believes it's a huge shame that in 2018 people cannot be more aware of it as a problem. The store employees and mall security stopped her and her shopping companion, followed them all the way to the mall elevator as they were attempting to reach the valet parking area, and then held us in the entrance to the store where all the other customers could clearly see what was happening. Sincerely is 8.5 months pregnant, and she was horrified, embarrassed, and viewed it as one of the most stressful moments she's ever experienced. Telli doesn't need to steal a purse, she could most likely afford to buy the entire store.
Telli is expecting her second child soon, and everything about this pregnancy is different from her first.
Her first pregnancy was easy. But this current pregnancy has her huffing and puffing, feeling as if she's about to pass out on airplanes, arriving in hotel lobbies only to find herself unable to breath or be drenched in sweat and then cold just minutes later. She's coping with her symptoms by using natural remedies. She uses hot showers, heating pads, exercises and prenatal massages to combat her back pain. Her husband Deontay has been giving her boxer style breathing in and out to keep extra oxygen in her brain. She's relaxing more often watching good movies with her feet propped on a pillow to help her cope with her fainting episodes.
Telli was an Xxotic Angels model and a nurse for a Beverly Hills plastic surgeons' recovery unit.
Telli was born in the Phillippines, grew up in Japan, and moved to California. She was a military brat. Her mother started her modeling when she was about 3 years old. She was in magazines and beauty pageants, too. She chose to move into the nursing field because her grandmother and mother are nurses. She chose plastic surgery as her nursing field because it is elective, and the patients are generally healthy.