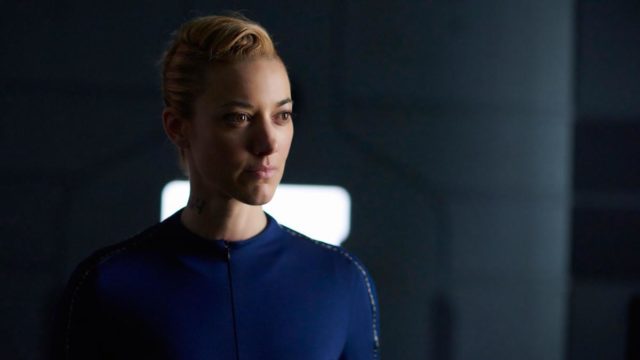 You would have to be living under a rock to not know who Zoie Palmer is. The Canadian Born actress has completely consumed the viewer of the show television series, Lost Girl. Palmer plays an incredibly curious doctor who has a remarkably calm demeanor, and who is immensely loyal – to a fault. The show seemed to be going on a predictable course during the first season; however, the second season looks to introduce a more complex dynamic, as the supernatural the love triangle between Lauren, Bo and Nadia heat up.
While there is plenty to talk about as far as the show is concerned, we thought it would be a good idea to give fans a close-up of one of Canada's most beautiful and likable Stars. Here are five things that you didn't know about Zoie Palmer.
1. She is Not Canadian Born
While the star is often introduced as being Canadian, her citizenship was not achieved through birthright. She was born in Cornwell, England, and her family migrated to Canada when she was only 10-years old. So, she definitely grew up in Canada, but she was born British. So does she officially count as a part of the second British invasion?
2. She Has Formal Training in the Arts
Although some actors and actresses achieve their zenith in the acting world without any formal training, the vast majority have studied acting at some point in their lives. For Zoie, her formal training comes from earning a Bachelor of Fine Arts degree from the prestigious New York University. New York University's Fine Arts program is considered to be one of the best in the world – meaning that Zoie Palmer has definitely put in the necessary work to be as good as she is.
3. Zoie is Actually Gay in Real Life
While Zoie plays a character with a gay love interest on Lost Girl, many fans were completely oblivious to the fact that the star is actually gay. She finally came out publicly in 2016, thanking her partner and producer, Alex Lalonde. She did this while she was accepting her first people's choice award for her role on the Lost Girl. Her coming out only serve to drive her popularity among fans through the roof.
4. Acting Wasn't a Shoe-in Career for Zoie
Although it appears that Zoie is a natural when it comes to acting, she has admitted that acting was not always a shoe-in as a career choice. She has revealed that she could have gone down a number of career paths and would have been equally satisfied with the results. Zoie admits that her love for animals would have made almost any career dealing with animals satisfactory. Can you imagine Zoie Palmer, the veterinarian?
5. She is Friends With Rachel McAdams
Zoie happens to be friends with another gorgeous movie star, Rachel McAdams. The two are actually really close. In fact, they actually did the ice bucket challenge together to promote awareness about ALS (Lou Gehrig's Disease). It is not clear how long the two have been friends, but they have definitely developed a very close bond. Who wouldn't want to be a fly on the wall during some of their encounters?