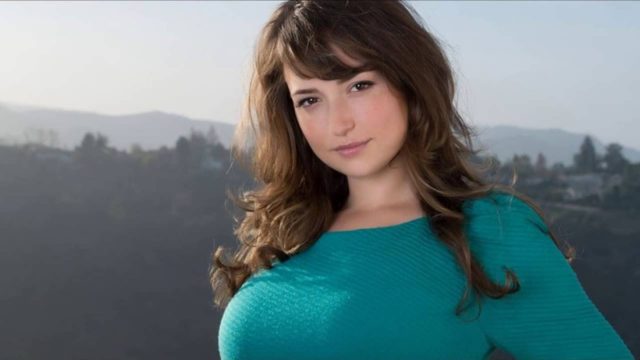 These days it's very hard to surprise anyone thanks to the internet since peoples' information is out on the internet for everyone to see so long as they know where to go. Milana Vayntrub's bio might have a few things that might surprise you just because you didn't know them in the first place. Sometimes there are a few surprises that you might not know just because you take an actor for granted or figure that the last thing you saw them in was the most memorable thing about them. In Milana's case she's done a lot more than people seem to realize.
Of course acting in the AT&T commercials was kind of a big thing for a while.
5. She's not a very tall woman.
You may or may not have seen this in the commercials since the angles and camera positions that were used could have hidden this. But Milana only stands about 5'3″, which isn't amazingly short but it's definitely shorter than many others. Women are just as diverse as men when it comes to height but anything under 5'4″ seems kind of on the diminutive side.
4. She's from Uzbekistan.
She was born in Uzbekistan and then came to America with her family. It might really take some listening to her to see if she has any hint of an accent. In her acting it's really difficult to tell since she has perfect diction and an accent is hard to detect if it's even there. But it could be that she was quite young when coming to the US and picked up on the local accent very easily.
3. She's 31 years old.
A lot of her looks, like so many actresses, could be due to makeup, but really and truly it seems that Milana takes great care of herself since she doesn't look like she's out of her 20's yet. There's no backhanded compliment there, she really does look like a younger woman no matter that she was born in 1987. There must be something she's doing to stay looking this young or perhaps she just comes from a family where longevity is a common thing.
2. She acted in Mattel Barbie commercials
So honestly she's no stranger to commercials. And if she acted in a Barbie commercial then it bears saying that has no fear of stepping in front of the camera anytime, any place. Barbie has been such a well known name for so long that being able to say you took part in even one of the commercials and nailed it is a big accomplishment that can't just be brushed aside.
1. She once date John Mayer.
The relationship only lasted for about a year but it was enough to say that she went out with a famous musician on her way to greater fame. Since then she's been busy building her career and has been on TV and in movies attempting to get her face out there as much as possible and make sure that she has a future in the industry.
So far it's working.