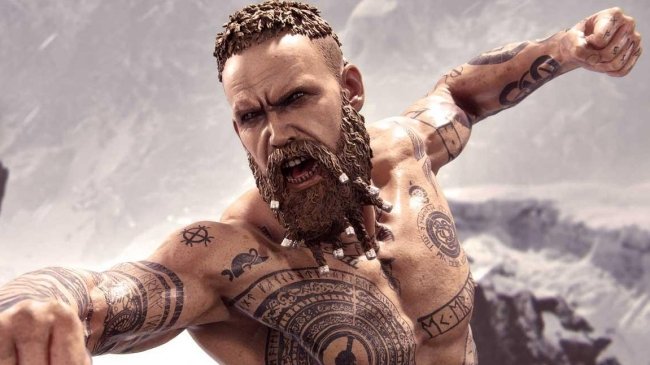 The very famous and very wallet-emptying Funko Pop figures have been growing in popularity in recent years. For those who are avid fans of pop culture will most likely have one of their favorite characters already made into a Pop figure. The characters come from all over, from movies to television, to comic books and even video games. While very many movie characters find their way into a Pop box, the number of video game characters being made into Pops seems to pale in comparison. Many famous video game characters have their own figures, including Lara Croft, Kratos, Master Chief, and even Pac-Man, just to name a few.  Now that Pops are becoming more popular, it is the perfect time for many other video game characters to get their own super cool figures. While there are many characters to choose from, I have picked the five best characters that I believe would make great Pop figures. Let's go Funko!
5. Baldur (God of War 4)
Did anyone ever think about what Conor McGregor would look like as a Norse God? Well, apparently the developers behind God of War 4 did and the results were phenomenal. What makes a good Pop figure is the unique design of the character and one look at Baldur would prompt anyone to have some kind of figure of him. He's a lean, bearded, blue-eyed, tattooed juggernaut, and let's keep in mind that he gave Kratos a serious run for his money. His tattoos of Norse runes are without a doubt his most defining feature and would look great on a Pop figure. It's been a year since God of War 4 has been released and the chances of getting Baldur as a Pop figure are slim, but his unique appearance would definitely make him one heck of a Pop figure to set eyes on.
4. Ellie (The Last of Us)
Who would have thought that a teenage girl would win the hearts of so many gamers? Ellie is far more than just a rowdy, foul-mouthed tomboy, considering she became a hardcore survivalist throughout the course of The Last of Us, something that we have all come to love her for. It's only fitting Ellie should get a Pop figure of her own, granted that she was constantly in combat, giving her multiple poses to choose from. With the long-awaited sequel hitting the shelves in May of next year, we can only hope that a few Pop figures from the game may hit the shelves as well, and considering we'll be getting an older and much more battle-hardened Ellie, the image of the figure would be a bloody and pretty sight. I'm thinking a dirty face with some blood and a bow and arrow in her hands. Take my money.
3. Shao Kahn (Mortal Kombat)
It's unfortunate that the Pop figure supply of Mortal Kombat characters is so low, but hopefully that will change in the near future. We have only received a small handful of the most popular characters based on their designs from Mortal Kombat X and we will soon be getting figures of the same characters, but of their designs from the original game. Mortal Kombat is known for its cast of colorful characters, so who would make for a great Pop figure? I think the best answer would have to be the big baddie of the franchise, better known to fans as Shao Kahn. His appearance is the perfect reason why he should have his own Pop figure, not to mention his famous wrath hammer with the Mortal Kombat symbol on it. From head to toe, Shao Kahn has the perfect bad guy look that would make for a killer looking Pop figure, and if I were to decide which design to choose from, I think his most recent design from Mortal Kombat 11 would make for the most top notch Pop figure out of all the Mortal Kombat characters. A skull helmet with a half mutated body? Now that's hard to pass up.
2. Pagan Min (Far Cry 4)
Okay, some people might be wondering why Pagan Min was picked over Vaas, but there is an argument to be made here. Yes, having Vaas as a Pop figure would be awesome, but the reason why Pagan would be better is because of his extremely flamboyant and colorful appearance. It's hard to believe that a brutal dictator could have the appearance of an adult cartoon character, but Pagan pulled it off flawlessly. He's got that blonde hair with a fancy haircut and with the bright purple suit to top it off; his Pop figure would be a must-own for any Pop collector. It's been several years since the game has been out, but maybe the future will shine on a figure just for Pagan. Heck, why not throw in a crab Rangoon?
1. Djimmi The Great (Cuphead)
That's right folks, the number one spot goes to one of the many annoying bosses in Cuphead. Djimmi the Great has the appearance of a muscular red genie with a big grin and a cob pipe. In his first phase, he's sitting on a magic carpet and had two genie lamps for feet. Seriously, how is this not a Pop figure already? Aside from being one of the most frustratingly difficult bosses in the game, Djimmi the Great is just awesome to look at because he's a genie that could belong in a Saturday morning cartoon. Other than Cuphead and Mugman, the amount of Pop figures from the game are very limited, so why not add on a few more? If the future is kind enough to give us some more figures from the game, then I vote pick some of the most colorful and unique looking characters, and Djimmi the Great fits the bill. A genie always delivers on wishes.
Final Thoughts
There you have it, Funko fans. There were many characters to choose from, but I believe that these characters would make some killer looking Pop figures to add to our collections. What characters do you think would make good Pop figures?