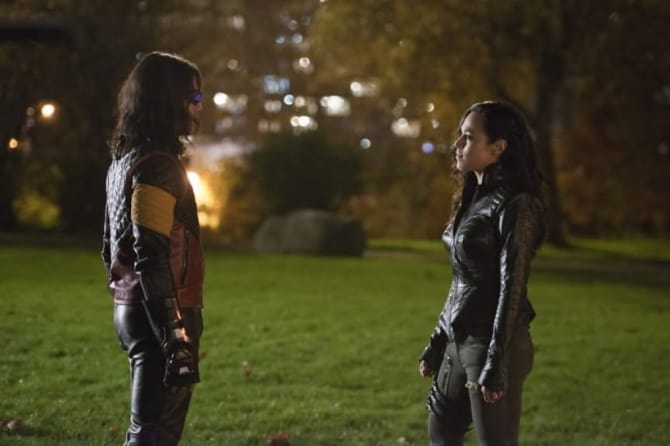 Since returning from the break, The Flash continues to be on a solid streak upward as it feels more and more like itself again. The show was all over the place for awhile and struggled to regain it's identity, but everything feels like it's calmed down which has allowed for the natural charm of it all to return. Cisco has been a large frustration throughout season three because of his uneven and unnatural relationship with Barry over Flashpoint. A lot of the character's problems have felt forced and even hypocritical at points; however, "Dead or Alive" manages to completely change that and have Cisco feeling like himself again.
Last night's episode really does a bunch of great things for Cisco that create exciting ideas for the rest of the season. Cisco lost his charming lovable attitude when Flashpoint happened, and while it was initially understandable, the plot began to feel old and repetitive. "Dead or Alive" brings a refreshing focus to Cisco's story by dedicating the episode to his powers.  The Flash nicely interweaves on-screen time to Cisco's hero development because it is obviously going to continue as a growing factor down the line, but will avoid feeling cheap or unearned in the long-run. The story allows for Cisco to connect with characters like Barry, but even more so, HR, and bring back the personal moments Cisco shares with each character. It was really nice to see the show cover how much Harrison Wells, no matter what form, has meant to Cisco in his growth as a person. As goofy as HR is, he really compliments Cisco's goofy side and the two have a connection. These are the types of interactions that make The Flash so great though, because the characters seem to genuinely care about one another, and even when HR is going to be taken back to his Earth and sentenced to death which could possibly change the timeline and save Iris, they choose to defend a man they have come to consider a friend.
Along with this, "Dead or Alive," also revives Barry and how he connects with everyone else on the team. Again, through the Flashpoint period, Barry never felt like himself and was making a lot of selfish decisions which is absolutely unlike his character. The reason Barry is such an admirable hero is because of his selflessness and ability to always remind everyone on Team Flash about how big a role they really do play. While this aspect was missing, it's really nice to see everyone functioning normally again, and Barry's current incorporation of Wally is helping a ton. Between the opening scene with the cheerleaders and telling Wally he will have to save Iris, it shows how much Barry believes in Wally and his abilities. The episode finds Barry not wasting time dwelling on the fate of the woman he loves, not hiding secrets from his friends, and most importantly, not being selfish. The show's dynamic lost this important feel and it's really comforting to see The Flash return to it's regular style for the back half of season 3.
All of these adjustments have also cleared the room for proper conflicts to be presented in the episodes. "Dead or Alive" puts a large emphasis on how Iris is dealing with certain aspects of knowing her future. She spends the episode trying to bust a large case on her own because while she isn't afraid to die, she is worried that she will leave no impact behind. It's completely understandable in this situation because Iris is closely surrounded by some of the cities best men, who will all be remembered for their dedication to the people. The character has every right to be concerned over her footprint, but the biggest problem with this story is the case she actually cracks. Iris is a great journalist who has displayed to viewers that she is unafraid to put herself in the thick of things if that's what it takes to get to the truth; however, "Dead or Alive" has her uncovering the weapons shipment and it feels rather boring. Not the scenes or story, but just the plot itself feels very underwhelming for being the story Iris was going to create her legacy with. It's only a minor gripe, but hopefully The Flash will continue to run with her devotion to uncovering the truth for as many stories as possible.
Overall, this was easily one of the top episodes of The Flash so far all because it finally regained the show's usual feel. If the writing can continue to keep the team dynamic solid and really grow Barry and Wally's relationship as heroes, The Flash should feel as strong as ever in the future. One thing that will be really interesting is if Cisco and Caitlin begin to play a larger part in the plan to save Iris. Barry has possibly stumbled onto one part of the answer with Wally being fast enough to physically reach Iris before her death, but it can't be that easy. The show has been slowly developing Caitlin and Cisco's situations as meta humans and continuing to explore the extent their powers can go. It wouldn't be shocking to see Savitar be handled by all of Team Flash, fighting for someone they all personally care about. Regardless, The Flash has seemed to re-discover it's footing and has delivered some great consistent episodes, which leaves a lot of excitement on the table as the show continues to inch closer to the inevitable showdown with Savitar.
Other Thoughts:
That story opening from HR was great. Seriously love that guy each week.
I really enjoy the romances that they give Cisco, they feel appropriate and it's always a nice small side-plot.
Julian's brutal honesty is phenomenal, especially because he's trying so hard to be nice and it just naturally rolls out of his mouth.
Wally has grown on me so much, his character has been a lot of fun since getting his speed powers. Can't wait for him and Barry's team dynamic to grow more.
The Flash Season 3 Episode 11 Review: "Dead or Alive"