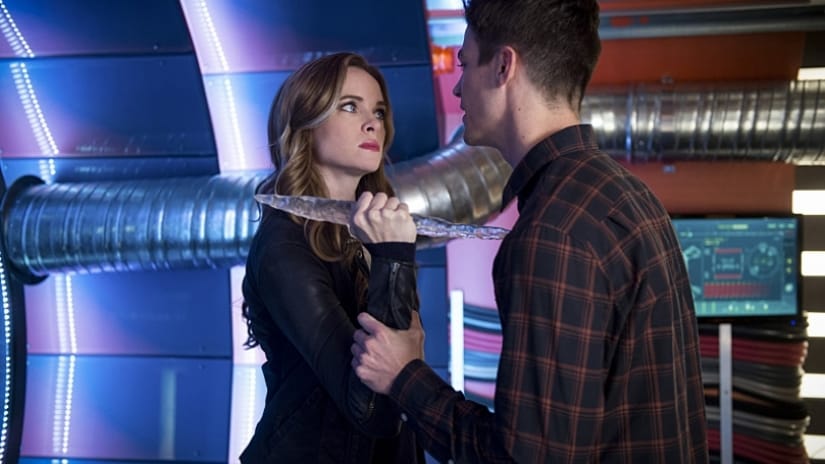 The Flash has been quite the rollercoaster this year in what has been it's most concerning season start yet. While the show has been trending downward with questionable decisions and repetitive plot points, it still hasn't even been half the season yet. This week's episode, "Killer Frost" felt like somewhat of a gamble with how much was being set up for Caitlin's plot that has been hit or miss throughout it's development in season 3. Yet, with Kevin Smith back on set directing, The Flash is actually looking up once again, and while last night was by no means perfect, the show seems to once again, be taking steps in the right direction.
The biggest conflict in "Killer Frost" finally shows the full conversion of the titular character into her villainous role from the comics. Caitlin's transition this season has felt very forced and there have been some questionable decisions along the way, but last night really utilized Killer Frost well to finally address some of the show's recent flaws. The big confrontation scene between Barry and Caitlin brings a lot to the table, including everything Barry is responsible for with Flashpoint and how selfish he has been with his choices over the past couple of months. While Barry's motive for everything is understandable to an extent, it definitely felt disappointing in the season 2 finale when he altered the timeline again. Regardless, the decisions have been made and Barry has to deal with it and do his best to return things to normal, but as "Killer Frost" points out, somethings can't be fully fixed. One of the best aspects of The Flash as a show and character is what H.R. points out last night, that Barry is a hero because of his never ending belief in hope and the good of people, which is really what makes the show so good. The way he never gives up on Caitlin is classic Barry and why fans love the character so much, because his speed isn't what makes him a hero. Last night's episode didn't necessarily fix things, but it had The Flash finally feeling back to it's roots with the hero acting how viewers know and love him.
On top of this, Barry cares so much about his friends that he's willing to quit his job to protect Caitlin. It's an interesting tradeoff between Julian and Barry, which at first seems weird because Julian acts nice but eventually reveals it's because Julian is Doctor Alchemy. This was probably the most cliched choice The Flash could make as the DC TV shows just seem completely addicted to always using this trope of having a new main character end up being a single season villain. "Killer Frost" had me hoping that this was just another surprising development for Julian, buying into Barry's strong sense of belief and becoming a better person, but the character is actually just one of the two mysterious villains of season 3. Julian has been a unique character throughout this season so far and while this was no surprise, it was a complete disappointment because for three straight seasons in a row, The Flash has somehow managed to incorporate the same plot point that has lost it's impact. While the Harrison Wells reveal was definitely surprising in the first season, the show has just really deflated the idea and now the first thing viewers will assume when a new character steps on screen is that they are the villain. While Julian's secret of being Doctor Alchemy still has an interesting story to explore ahead, the reveal just felt very lackluster. Now that the show has gotten that out of the way, hopefully Julian has some extremely fun and interesting story ahead that will finally allow Tom Felton to display his acting potential a little more.
"Killer Frost" is a Flash episode that focuses on character transitions to the fullest. While there is a large focus on Caitlin, the show also features changes for Julian, Wally and even Cisco. If there was one thing that Flashpoint was used for, it was a jumping off point to deliver fans everything they didn't want to wait for. It opened up a door for Wally to quickly become Kid Flash, it skipped over a lot of Cisco's development into being a hero, and it even incorporated Killer Frost into the main timeline. These stories are all awesome to watch visually, but will hopefully develop a little more to feel earned. It's been fantastic that the Flash family is being incorporated into the show more and it will be unbelievable to have Barry, Wally, Jesse, and Jay all on screen together; however, it would be really nice if the show had Wally and Jesse mess up a decent bit at the start because as much as they want to both jump right into the field and help people, they still have a lot to learn. Even with Cisco, who is starting to use his Vibe powers more and more, should have some missteps along the way in a similar manner to what Arrow has been doing with the new recruits.
The Flash has been far from perfect in season 3, but "Killer Frost" has things looking up as the show nears it's midseason break. The one thing that all of this commotion is doing to The Flash is raising the stakes to a new level. A lot of things on the show feel broken, mainly the relationships between the characters, and The Flash is really exploring new emotional avenues in season 3. "Killer Frost" finally called Barry out on all the harm he has caused for selfish reasons and is pounding the idea into viewer's heads that some negative aspects from Flashpoint will have a lasting impression. While certain aspects of the show continue to feel repetitive (Julian's reveal and Cisco's anger towards Barry) but hopefully by addressing everything so head on will allow the show to finally move past these rough points. Savitar is a really cool looming threat and is easily the most unique speedster villain the show has given viewers so far, and The Flash should have a blast further exploring how Barry and his friends will take on the God of Speed.
Other Thoughts:
*What is their goal with Cisco and Barry???? Seriously? Did they just shoot a bunch of scenes where they fight and then decide to randomly insert them?
*I actually loved a bunch of the scenes Caitlin had tonight! This was definitely one of the better episodes.
*Kevin Smith really killed it directing again. While I don't think The Flash has been anything special this year, he absolutely made the most out of what he had.
*So I assume Julian's inevitable downfall as a villain will lead Barry to getting his job back – and have the lab to himself.
*I love H.R. and I think he remains the most fun part of each episode. Tom Cavanagh is great.
The Flash Season 3 Episode 7 Review: "Killer Frost"