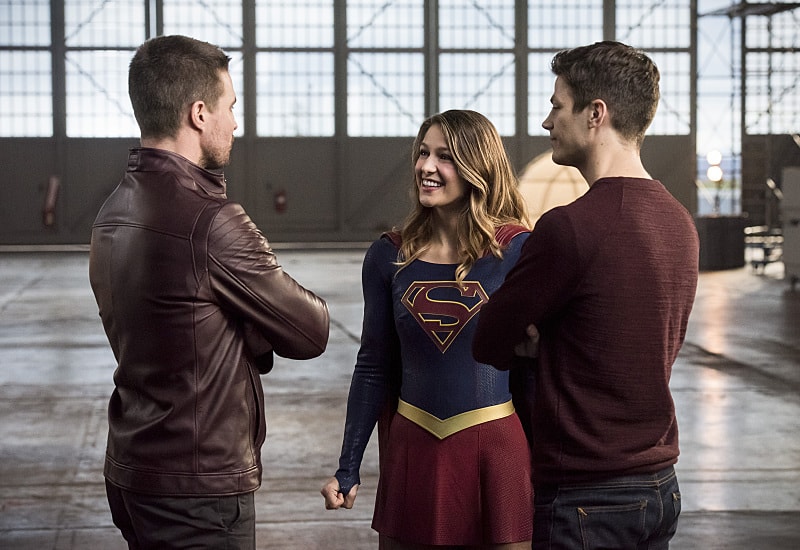 Crossover week continues with The Flash and expands on the ever-expanding DC TV Universe characters! While Supergirl ever so slightly kicked things off on Monday, The Flash gets right into "Invasion!" and delivers the classic and familiar crossover feel in what was easily one of the best episodes in season three. "Invasion" finally puts all of the heroes together and once again, the crossover does not let down. The Flash has always had a great presence and defined tone to it, and whenever other characters stop and adapt that style, it's a blast to watch.
"Invasion" really wastes no time getting things started and getting the teams together. The crossovers are just so lovable because they really show how widely developed this universe has gotten and the growth only enhances the experience. The inclusion of Supergirl was a really great addition, and while it would still be nice to somehow incorporate those characters into the same Earth, the show's have done a nice job of creating a believable way to include her. The Flash just gets straight to the point with the aliens and prepares viewers for what they want to see, a big group team up, the closest thing to a DC TV Avengers or Justice League. It's the best show to fully kick off the crossover with because of it's lightheartedness and that can fully be summed up with one line from Thea, "but…. it's… aliens."
Another thing The Flash has chosen to beat it's viewers over the head with is that things are not alright between Team Flash, and more directly, Barry and Cisco. More recently, Barry has finally be put on the spot for screwing everything up with Flashpoint and how selfish of a decision it was that impacted everyone. While it's been handled pretty well so far, "Invasion!" decided to make the entire DC TV universe aware of what Barry has done, which isn't a bad thing, but they sort of go about it in a frustrating way. Cisco has been super whiney this season on The Flash, and while he is allowed to be upset with Barry, his need to bring it up in every scene is flat out annoying. Between the line Cisco drops on Supergirl, "friend is a loose term," and him loudly bringing it up in the midst of an alien invasion feel childish and like Cisco's only intention is to turn everyone against Barry. Although Barry definitely deserves to feel the impact and weight of his actions, the show has executed this in a very weird way week to week.
However, Barry's flaws lead us to one of, if not, the best part of The Flash last night when the two of them discuss everything going on and Barry fully fills Oliver in. Although Oliver is no saint, he is more mature than Barry when it comes to being a hero and recognizing what he does as a duty to his city. Oliver has been through a lot, and most recently, he's been in Barry's position where the secrets and mistrust ruin a team, but Oliver has arguably had a reason for everything he's done and never chosen the selfish route that Barry did. The conversation between Barry and Oliver needed to happen, and hopefully it will essentially get Barry to calm down and realize he can't change what he did, and moping about it won't get him anywhere. Things might never return to normal between him and Cisco, and that would be terribly unfortunate, but trying to force things back to normal doesn't help either.
The Flash, since it's first season, has always been a fun addition to the DC TV universe and has nicely blended it's television show structure with a superhero character. There is always a necessary balance between fan service and story, which The Flash has always seemed to be perfect at understanding; however, the show has taken things pretty extreme, and Barry is just a completely unlikable character for what he's done. Yet, this is why "Invasion!" is so great and one of the season's best episodes, because it gives viewers a breather from most of the show's drama and just delivers a great and fun crossover. The Flash finally delivers the show's early season feel of being enjoyable purely because fans are seeing their favorite heroes on television, and while there is conflict, it doesn't revolve around such heavy personal issues or get set up by the main character being selfish and regressing on who he has become due to the events of the first two seasons.
Other Thoughts:
*One thing I will say, is for how smart all of the DC TV characters are made out to be, it's incredible how immature they can act. Yes, discovering that your life was changed against your will and knowing someone you consider a close friend is the reason for the change is horrible to find out, but there is a balance and tradeoff to everything. I agree, Barry is selfish and unlikable right now, but
*HR continues to be great. I've come around on that dude a ton this season.
*The Supergirl and Heatwave banter is fantastic. Please just keep her in their universe full time ):
*Is this the first time we have seen Oliver actually run out of arrows??
*How fun will it be if in a future crossover we  got to see Winn hang around Iris, Caitlin and Felicity?
*Love that they are having future Barry send messages back and all, but that modulated Grant Gustin voice isn't fooling anyone.
The Flash Season 3 Episode 8 Review: "Invasion!"