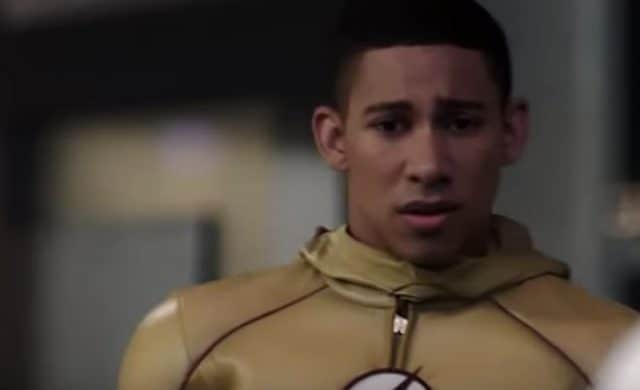 Gypsy certainly made herself known in last night's episode of The Flash wouldn't you say?  Sure, the situation might be sorted out for now but you know something else is coming.   As you'll see in the promo Barry Allen isn't messing around.  It's time to up Kid Flash's training regimen but things can't possibly go as planned right?  Right.   While the plan is to get Wally West ready to battle Savitar but there's a chance that Iris West may be dead.
The consensus on last night's episode is that Wally is starting get more enjoyable.   I think everyone can agree that a "nicer" Cisco is always a welcome return.   But there is definitely one burning question that still needs to be answered here.  Doesn't the fact we know Iris lives towards the end of the series for that moment with Savitar make this threat on her life pointless?   Hmmm.
Check out the promo for next week below
Here's the official synopsis from The CW
THE TOUCH OF DEATH — Barry (Grant Gustin) and the team at S.T.A.R. Labs work together to bring down Clive Yorkin (guest star Matthew Kevin Anderson), a criminal meta-human who is methodically killing people by causing them to decompose at an accelerated rate. Joe (Jesse L. Martin) becomes his next target but it's Iris (Candice Patton) who is caught in the crossfire. The Flash mentors Kid Flash (Keiynan Lonsdale) and begins to elevate the newer speedster's training to another level. Rob Hardy directed the episode written by Brooke Roberts & Judalina Neira.