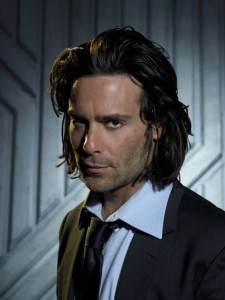 The Science Fiction fandom has been abuzz since ABC announced that James Callis had been cast in a pivotal role on FlashForward. Callis's performance as Gaius Baltar on Battlestar Galactica was legendary, Baltar was multi-faceted – playboy, scoundrel, traitor, religious leader, and surprisingly, hero — and much to Callis's credit, every angle of Gaius was believable as individual shades of one morally complex individual. Following up a character like Balater wouldn't be easy, but from what I learned today Callis may have found a part on FlashForward that makes for a suitable encore.
While speaking with FlashForward cast members Jack Davenport, Sonya Walger, Joseph Fiennes, and Dominic Monaghan today, I got a few unexpected bits of info about that nature of Callis's character — who I have since confirmed is named Gabriel McDow – that turned out to be intriguing to say the least. The first bit came when I asked Walger about how the '˜Many Worlds'concept might mate with the knowledge in the FlashForward universe that the visions are not destiny.
'Olivia meets this strange character who seems to know an enormous amount about her future, and is very definitive about what he knows — he's played by James Callis, who was in Battlestar Galactica amongst other things — and the reason he knows so much about Olivia's future is that it turns out he has had multiple flash-forwards. So he becomes integral to her believing and subscribing to the idea that there is an alternative, that there was another path that she might have gone on. He also becomes of huge importance to the FBI investigation.'Walger told me.
After I managed to get my brain back in my skull, I probed for more details — but Davenport shut me down cold. 'There's other stuff we're not telling you, believe me.'
The idea of the psychic damage that Callis's character may endure from multiple flash-forwards and how that might connect with the fates of the characters we know and love is at once fascinating, and a little puzzling — in the best possible way. FlashForward has already made the struggles that come with knowing your own future into dramatic canon, Gabriel McDow ups that ante considerably.
Joseph Fiennes and Dominc Monaghan proved even more tight lipped about the mysterious McDow. Fiennes told me that while he had not worked with Callis yet, 'I have had a chance to do an impersonation of his character.'When I asked if I could hear it, it seems some element of that turned out to be too revealing. 'I'd be giving too much away, that would be a definite spoiler.'
Keep watching for more exciting FlashForward reveals, including the full video of our interviews with Jack Davenport, Sonya Walger, Joseph Fiennes, and Dominic Monaghan, as FlashForward's return, March 18th at 8:00pm EST on ABC, fast approaches.