UPDATE 5/31: As this article is still getting responses, I feel the need to redirect readers to this article, which confirms FlashForward's cancellation.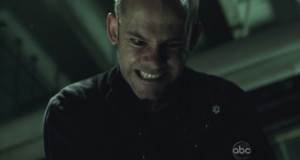 FlashForward probably won't get a season two, especially if ratings stay as low as they were for the two hour episode "Revelation Zero," which aired last night. Despite haveing very little competition (FOX and the CW both were airing reruns), FlashForward managed to gather only a middling 6.61 viewers in the first hour of the episode, and dropped down to 6.49 viewers by the second hour.
Sure, the ratings aren't as bad as a show from, say, the CW or TNT, but for a show as expensive as FlashForward, these ratings are downright awful. Unless the next ten episodes of the season see some dramatic improvement, it's unlikely that we'll see another year of flashforward, meaning that the writing team will have to wrap up loose storylines before their already-ordered season ends.
It's such a shame, too, because FlashForward was so good last night. In fact, it was the best episode of the series thus far, both in character development and mythological advancement. Much needed answers were given, and the show should have thrived among viewers. Why didn't it?
The long, long break between the last episode of the show and last night's episode of the show was massive. "A561984" aired on December 3, and it was a nearly four month break before the show's March 18 return. Viewers are likely to forget about shows over that length of time, especially the more casual ones.
If FlashForward is indeed cancelled (which is looking like a very likely scenario right now), then ABC's other sci-fi offering V, will look very safe for a second season. Of the two, I like FlashForward better (especially after last night's redeeming episode), and I would much rather see V go.
What do you think? Should FlashForward stay or go? Should we start sending friendship bracelets to ABC? Or would you rather just let it die so that V can live?