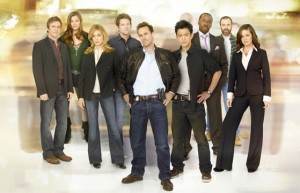 Tonight's episode of FlashForward was focused primarily on Bryce. We learn that he has terminal cancer, but he's convinced that he has something to live for in the mysterious woman he saw in his vision. In fact, he travels to Japan to try to track her down, but returns home dejected. In conjunction with Bryce's trip, we actually learn more about the woman, Keiko, who is a mechanical engineer at a Tokyo robotics firm, but dreams of being a guitar player. She too saw Bryce in her flash forward and believes he's out there for her.
In LA, the FBI's attempts to learn more about Suspect Zero and his ring don't uncover much. But it leads them to learn more about the call Demetri received from the woman who told him about his murder – including the fact that the call was made from Hong Kong.
Mark, meanwhile, tries to discover whether Aaron or Stan is sending Olivia texts about him drinking in his flash forward, but just manages to causes rifts with them both. Aaron's going through his own problems – dealing with his daughter Tracy, who has become an alcoholic under the pressure of the last two years she's spent in hiding.
Click here to read the entire recap.