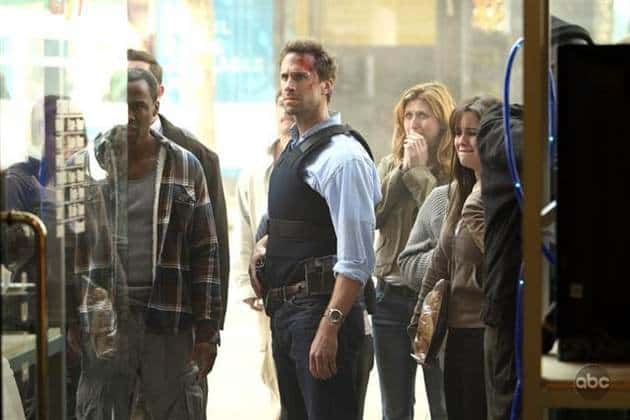 Normally, producers of television shows are averse to spoilers, but not FlashForward's David S. Goyer. The producer is using the forum for the new ABC drama to begin spreading a few spoilers himself, most notable the titles of the first three Episodes of FlashForward. Sure it's not 'heavy' spoiler stuff, and I doubt Goyer is going to start posting beat-by-beat synopses anytime soon (translation: never), but Goyer's presence on the RedPandaResources board certainly legitimizes his lucidity on the import of the fan scene – and the baubles we chase after. Here is what Goyer has given us so far, more – no doubt – will come in the near future.
Just for fun, I'm going to give you guys the titles of our first few episodes.

The pilot (101) is simply called "No More Good Days".

Episode 102 (which we just finished shooting) is called "White To Play"

Episode 103 (which we just started shooting) is called "137 Sekunden"
Interesting titles for sure, with "White To Play" being the first episode to feature LOST alum Dominic Monaghan. It was our recent sit down with David S. Goyer and Dominic Monaghan that finally got through to me just how cool FlashForward could be. I am totally Pavlovian when it comes to this genre – you ring the scifi bell and I eat – so there was never any question of whether I'd watch FlashForward or not.
Once I heard Goyer talking about the show though, I got chills. Mostly because it is clear he is one of us, and his enthusiasm for telling an expansive and multifaceted story truly seems to resonate from the place where the x-factor lives. He's not a big shot Hollywood scribe dabbling in TV, he loves this sh*t. On top of that, he clearly understands the way the technological winds are blowing in entertainment, and his posting on RedPandaResources proves he's jumped into this new paradigm feet first. Goyer isn't alone, either, as Marc Guggenheim has also sounded off in the site's front page. Also, in addition to the episode titles, Goyer has been dropping some hints on the easter eggs to be found in FlashForward. Anyone who is serious about staying on top of the show should definitely be perusing the site.