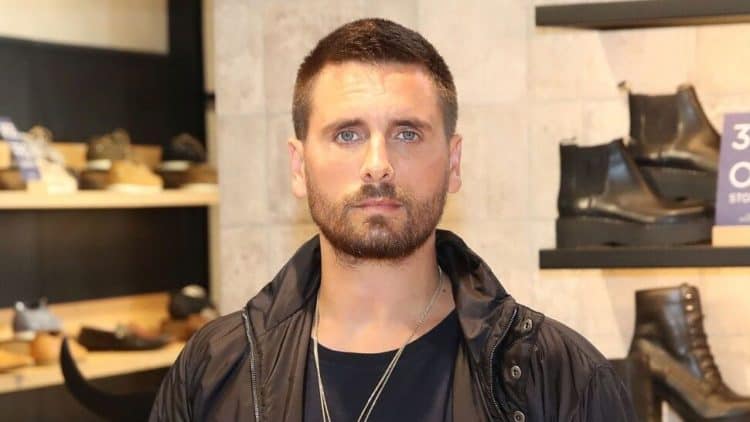 Whether you're a fan of Scott Disick from his appearances on Keeping up with the Kardashians or are simply curious about how luxury house flipping works, you'll want to tune into E!'s brand new series, Flip it Like Disick. The show gives viewers the chance to take an inside look into Disick's latest ventures in real estate and property development, as well as introducing us to his team of handy helpers: Willa Ford, a former pop star turned interior designer, Benny Luciano, Disick's best friend and trusted business partner, Miki Moor, a fiery contractor, Lindsay Diamond, Disick's assistant, and Kozet Luciano, a realtor and wife of Benny. With Kris Jenner at the helm and expected guest appearances from the rest of Kardashian clan, the show promises to be nothing if not entertaining. Find out more with these ten fast facts.
1. Sofia Richie is conspicuous by her absence
If you were hoping to see Disick's other half, Sofia Richie, on an upcoming episode of Flip it Like Disick, prepare to be disappointed. As Champion Daily revealed, Disick has no plans of sharing screen time with his girlfriend. "Sofia got cut out of Scott's show because she didn't add anything interesting to it," a source shared with the publication. "The producers just felt that, in the end, having her on would just take away from him."
2. The Kardashians will be out in full force
What would a reality TV show be without an appearance from at least one Kardashian? As expected, Disick will be drawing on his famous former-in laws to add a bit of Kardashian magic to his new show. Kourtney and Khloe are both on hand to offer support to Disick during his first project, a renovation of French Montana's house. " I'm very proud of you." Khloe can be heard saying to her former partner during the premiere, while Kourtney offers the frank warning "You can't predict what can go wrong with the house."
3. Expect a heap of famous faces
In addition to the Kardashians, viewers can expect to see a whole host of famous faces. As well as renovating rapper French Montana's house, Disick will also be helping out a number of his other celebrity buddies, including long-time friend and musician Steve Aoki.
4. Flipping houses is Disick's way of putting family first
Disick may be known for his fun-loving lifestyle, but refocusing his energies into real estate has allowed him to show where his priorities really lie. "I think it's nice for me to be able to show that I'm doing something that I'm passionate about and something I care about, and I'm still able to put my family first and have the time that I want with them and still be able to do this and have this as my career," he's explained.
5. We'll get to see a new side to Disick
Even the most dedicated KUWTK fan may be surprised to learn that Disick has been flipping houses for over 5 years. Disick is keen for viewers to see him in a new light as he reveals his serious nature for the first time. "I'm excited to bring fans a new series that shows what I'm really passionate about professionally, which is flipping real estate and doing crazy and impressive renovations on celebrity homes," he told Entertainment Focus. "It's a bit different than viewers are used to seeing, but I think they will be both entertained and inspired by my team."
6. Disick is following in his family's footsteps
Scott isn't the first Disick to make a name for himself in real estate; his grandfather was David M. Disick, a real estate developer whose success in property management helped secure the family's fortunes for years to come. Despite his background, Scott clearly thinks he carving out new territory, at least as far as leadership skills go. 'I am the greatest leader that's ever lived,' he bragged in the 30-second trailer to the series.
7. Kris Jenner is executive producing
Kardashian matriarch Kris is not only expected to appear in the new show, she's also executive producing. Jenner had a very hands-on approach to filming and helped Disick manage his anxiety about the show's premiere. "Kris is helping to navigate his nerves and helping him with ideas on how to increase the promotion over the next few weeks," a source told Hollywood Life. "They're in the final stretch, so it's very exciting and very nerve-wracking all at the same time. Scott's very proud of the show. The response from people has been great, but he's still nervous. No one can really predict how the fans will react."
8. It features a blast from the past
Anyone around in the early 2000s will remember Willa Ford from such hits as Lullaby, I Wanna Be Bad, and Did Ya Understand That. These days, she's more likely to be found with a paintbrush than a microphone, having spent the last 10 years renovating the homes of the rich and famous with her design company, W Ford Interiors. Willa is reasonable for the final design stages of the property's Disick flips, as well as managing them when he's not around.
9. It takes luxe to extremes
Don't tune into the show expecting to pick up some handy hints about flipping your own house; the focus here is on the kind of ultra-high-end properties that are beyond most of our wildest dreams. "These aren't thousand-dollar projects; we're investing millions of dollars into these houses, and a lot more is on the line," Disick has revealed to Elle Décor. "We're doing everything from remodeling to reconstructing, to building from the ground up."
10. Expect more to come
While there's no news yet on whether E! plans to renew the series for a second outing, if Disick has his way, you can expect to see much more from him and the team over the years to come. "It's really cool that I have an opportunity to show the professional side of my life. Developing real estate is something I could do for the rest of my life and be happy doing it," he told Elle.