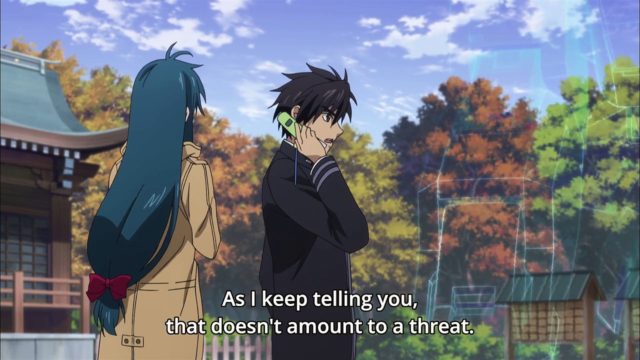 This week's episode of Full Metal Panic! Invisible Victory, "On My Own," started out with Sousuke and Kaname doing what they promised in the previous episode, figuring things out together. They are planning how to rescue Kyoko and the rest of their classmates. And, it was nice to see Kaname as part of the planning process, not because she wasn't helpful or lacked agenda in the previous series, just that we haven't gotten to see that firey determination of hers thus far, so seeing her have just as much of an input on the "operation" as Sousuke was a nice way to open the episode.
Sousuke plans to buy time so Kaname can help save their classmates, and in buying that time, Sousuke seems to immediately negate Kaname's involvement in planning through a series of negotiations that appear as though he is abandoning her and all their friends. Kaname is taken aback by these plans, but soon realizes that Sousuke made these arrangements to use up an hour that Kaname needs. This is an interesting moment, as Kaname starts out the episode being part of the planning, but is then left out of the loop, perhaps to represent just how far away she really is from Sousuke's world of missions and tactics.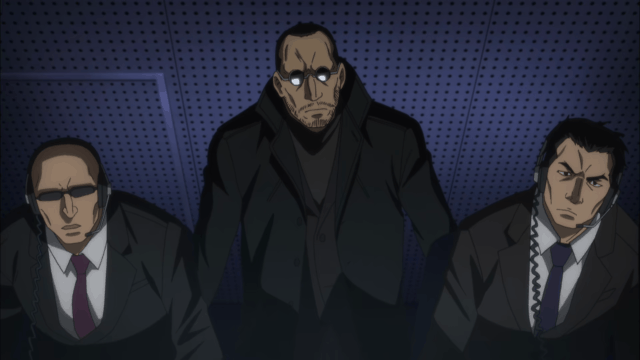 This idea continues throughout the episode as Sousuke asks Kaname to stay put while he deals with the threat at hand. And, well, as one might expect, Kaname doesn't like this. Try as he might to do the mission on his own, Kaname cannot stay put, she has to act, and after what appears to be a deadly premonition, she runs off to help.
At the same time, Sousuke finds himself in a sticky situation specifically he tried to do everything alone, getting captured by the enemy while trying to rescue Kyoko. In fact, the only things that saves him is Wraith, who disguises herself as a teacher to rescue Sousuke. But, the situation gets worse and worse, Leonard Testarossa showing up in his Belial AS to take care of Sousuke himself, resulting in the dismemberment and eventual destruction of the Arbalest.
The chaos and destruction of the situation ends up being too much for Kaname, and seeing that her friend might not survive is enough to push her over the edge and take back her agenda in this whole ordeal. She decides that she is tired of letting others get hurt protecting her so she gives herself up, the big twist of the episode that sparks the main conflict of this final chapter in Full Metal Panic!.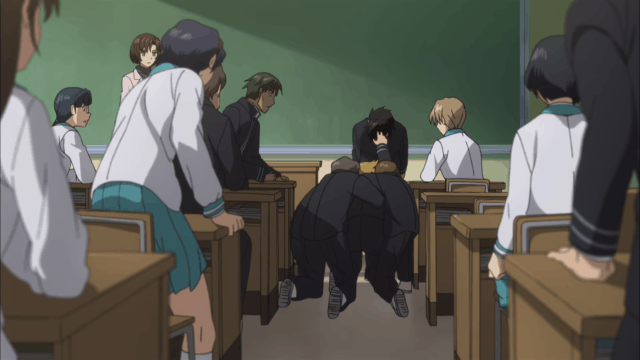 Kaname gives herself up for the people she loves, and the point where she comes to that decision is powerful and cuts deep, a high point of both the episode and the series thus far. The powerful moment leads to even more powerful moments; Kaname sacrificing herself is met with heartbreaking and swelling music that tugs at our emotions, and when Sousuke promises to bring Kaname back, as well as Ono-D's violent reaction to his appearance in the classroom after Kyoko's injury, are both hard to swallow and uplifting at the same time, despite how grim things look.
There is one small cut to the B-plot of the attack on Merida Island, which is rather well-timed and serves as an update on their situation, showing how it has grown as equally grim as Sousuke and Kaname's, which in turn shows how organized Amalgam is and how great of an enemy they will turn out to be. In this cutaway, we also see that Kurz and Clouseau have survived (the former of which did not survive in the manga if I remember correctly, which might have been done to help move the plot forward, since this series is only 12 episode long) and that they have made it aboard the TDD.
This episode was a major turning point for the series, as it sets off the major conflict of Invisible Victory, getting Kaname back, and we can't wait to see how it unfolds.
Check back next week for another review and catch Full Metal Panic! Invisible Victory on Crunchyroll and VRV!
Full Metal Panic! Invisible Victory Ep. 4
Summary
Sousuke fights with all he has while Kaname makes a bold sacrifice in this week's Full Metal Panic! Invisible Victory