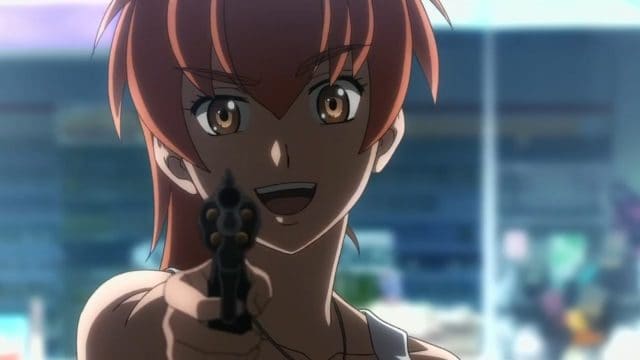 After a VERY unnecessary episode recap last week, Full Metal Panic! Invisible Victory is back with this week's episode "Welcome to the Jungle."
The episode starts with a time skip, showing Sousuke waking up in a stir (sleeping under the bed still, of course) opening the curtains to reveal he is in the city of Namsac, a bustling town full of people and a few Arm Slaves walking around.  The time skip is, a bit jarring at first, and if I remember the manga correctly, it means we skipped over a lot of stuff, including the important moment in which Sousuke and Kaname confess their feelings for each other over a two-way radio, promising to kiss when they see each other again.
Though the moment is important, the anime does well without it, altering Sousuke's motivation to get Kaname back from wanting her back for the sake of wanting her back to wanting her back to say all the things he had yet to say before she was taken. A slight change, but just as powerful in this version.
Regardless, the episode starts with a focus on Lemon, a photographer taking pictures of Arm Slaves in Namsac who gets approached by some thugs looking to steal his expensive camera. Lemon is saved by a girl named Nami, a local who isn't afraid to pull a gun on the thugs. There is more history between the head thug, Dao, and Nami, since it turns out they are competing against each other in an AS wrestling match, which becomes the central plot of the episode.
Nami is the owner of one of the teams competing in the AS fights, and she shows Lemon her team in the hopes of swindling $5,000 from him for saving his ass, a notion she does not let go of despite how friendly and open she is about her team. And… They kind of need it, her team's Savage model AS has seen better days, and it is in no shape to fight. Though, she claims their pilot is top notch. But… he's been stabbed in the back, a murder that is most likely the work of Dao and his crew. So, Nami and her team are left without a pilot hours before the big match. Nami plans to pilot, but she is not all that experienced.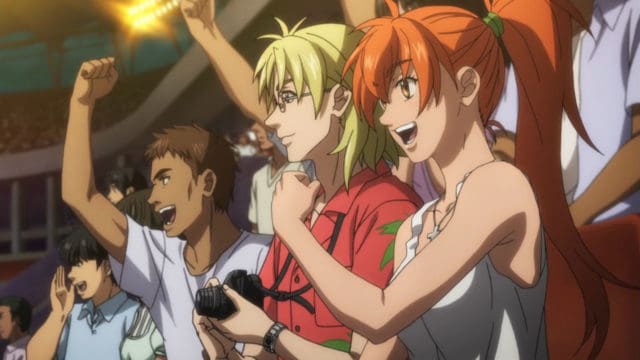 Enter Sousuke, who shows up to visit Nami's pilot, an old comrade of his (perhaps from the photo of Sousuke and fellow soldiers that made multiple appearances in past series), only to find he is dead and the team is without a pilot. So, of course, Sousuke steps in. After proving his skill and knowledge of the team's AS, Sousuke is chosen as the pilot, and while we still don't know much about what is going on with him, his mission, what he plans to do to save Kaname, etc., the story is still interesting, perhaps because of that mystery, since it makes us want to see where this is all leading. He says he came to Namsac in search of something, so what is it?
After repairs are made and the Savage is ready. the match begins, and it's over in just a few second. Dao rushes at Sousuke and he just uses AS martial arts (which was executed really well using the CGI models, still hitting that same impacts that 2d animation had in the previous series) to rotate the AS so hard that it puts Dao completely out of comission.
After the match we get a bit of exposition about Nami and the state of the city/country as she tells about her acquisition of the Savage AS. The story unfolds in a natural way and its interesting to see Sousuke acting like, well, his old self again. Meaning we see him sort of distance himself from others, much in the same way he did before he met Kaname and made friends with the students at Jindai. But, he's changed now, he's struggling to isolate himself and we can see him warming up to people much faster than he did before. It's a small moment, but a powerful one nonetheless.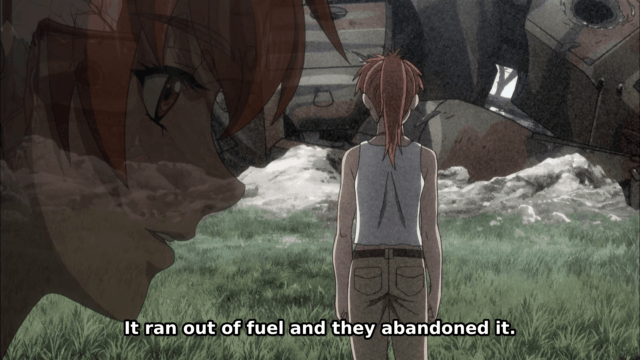 The episode ends as Sousuke and Nami part ways on their walk home. Nami is ambushed by a pissed-off Dao who is looking for revenge, but Sousuke shows up in the nick of time (which, side note, was a really choreographed reveal), a surprise to Dao, since he said he "took care" of him as well. Sousuke quickly apprehends Dao, but there is a mysterious moment of hesitation when he has the knife in his neck — perhaps he looks at his actions differently with how Kaname reacted to his status as a killer — which perhaps leads him to let Dao and his men off with a warning, which they take with stride, running off scared. Feeling unsafe, Sousuke and Nami decide to sleep at Lemon's hotel room… without telling him…
Overall we had a big episode that introduced a lot of new characters and plots, but, aside from a bit of rushing in the early parts, cutting the big radio exchange between Kaname and Soususke, and a lot of unanswered questions, this episode was paced incredibly well and was over all a strong addition to the story, one that made me want to know where things go from here, despite having read ahead.
Check back next week for another review of Full Metal Panic! Invisible Victory
Full Metal Panic! Invisible Victory Ep. 5
Summary
With a few unanswered questions hanging in the air, this week's Full Metal Panic! Invisible Victory throws us into new places, new stories, new characters with a lot of finesse and cool character moments.