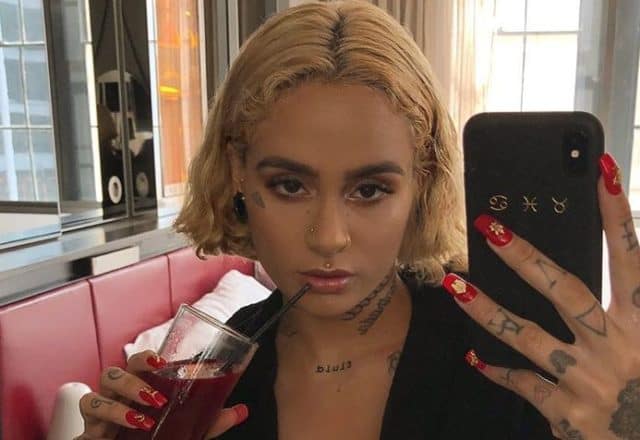 Gone are her Poplyfe and America's Got Talent days, and Kehlani has surely heeded the advice of Piers Morgan when he said that she didn't need the group. Sticking to her guts and proving her own talents, Kehlani ventured on her own and produced a mixtape in 2014 that was described by some as one of the best albums that year. In 2015, she released her first full-length album, You Should Be Here, which Billboard described as the first great album that year. 2016 came and Kehlani saw a Grammy nomination, and fast-forward to 2018, she's opening for headliners such as Demi Lovato and Halsey. This young star is certainly on her way to the top, and she's chronicling it all on her social media pages. Here are the top reasons why you should be following Kehlani on Instagram.
Backstage shots
You can see Kehlani's life off the stage through some of her Instagram photos. She's hanging out with Eminem one second, and next thing you know, she's backstage with DJ Khaled. Life as a working artist doesn't seem so bad when you're working with some greats. Kehlani's talent will only propel her to the top, and her collaborations will only get crazier and better.
Private photos
Occasionally, you'll spot Kehlani post a selfie that's completely untouched. You can see her makeup free face, hair in complete disarray, and completely in her element outside of the public eye. You get her energy while she's on stage, but when she's just taking selfies, you certainly get her chill vibe.
Her fashion
It's not hard to describe Kehlani's style as original. She is her own person, and no one else out there can rock the urban style she's always sporting. Her beauty is unique and is only highlighted by her fashion. She's one of the few young female artists out there who can project sexy without being skimpy.
Stage photos
If you've never seen Kehlani on stage, you get a chance to see her in her element while performing through her Instagram photos. You can feel her passion and energy just through her shots, and you can definitely imagine how she must be when she's live on stage. Kehlani looks like she's always having a good time.
Unique locations
Once in a while, you'll see photos of Kehlani away from the stage and away from the crowds off location somewhere. You can probably say that these are her travel photos, but seeing her life outside is inspirational in a sense that you see what you can get with hard work and dedication to your craft. We've seen her post pics from San Antionio to Miami, New Zealand to Australia, and many more.
Video clips
You'll also find clips of Kehlani that range from her songs to clips of her quirky personality. She's always so vibrant and it's hard to find her not smiling. How could she not when she's got a great life (as chronicled by her Instagram)? Her videos will leave you smiling as well, reminding you why love this artist so much.