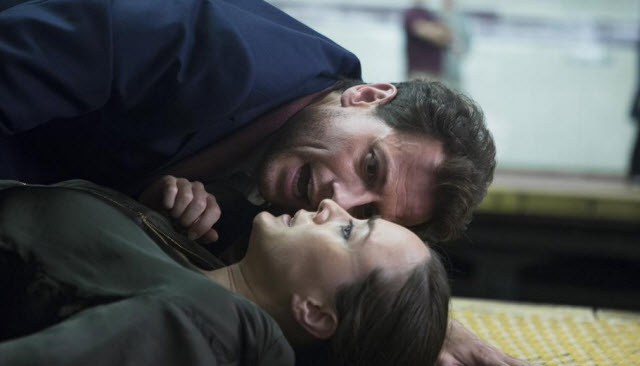 This week's Forever, now settled into its normal time slot, is slowly finding its footing as a series. When a show knows what it is, what it does well, and where it wants to go, it generally has success. Now 3 episodes into Forever, I'm pretty convinced that it has a solid foundation at the least.
As you probably remember, Dr. Henry Morgan is immortal, and spends literally all his free time (which is quite a bit, being 200 + years old) searching for a cure to said immortality. At work, he's a medical examiner who is helping the police solve murders with his exceptional observational skills and medical expertise. Evidenced by a flashback in this episode, he has held his observational skills for quite some time.
One of my concerns after the first two weeks was the stakes of the mysteries. However, if the show continues its upward trajectory, or at least on par with this week's episode, I will not be disappointed. They mystery was layered, complicated, and required the expertise of the entire main cast in one way or another. I mean a perfect physical specimen (for 67 years old) died due to brain damage, and they uncovered an entire vitality clinic that was consuming human brain tissue in liquid form.
Obviously they can't have an "immortality" themed episode every week, or it will get old really fast. But, the use of Abe during this episode was extremely well placed. Abe has grown old while Henry has remained young, and it would be understandable for Abe to harbor a bit of resentment toward Henry. Of course, what begins as resentment and regret, becomes an appreciation for life in the moment. Judd Hirsch is masterful as Abe, and he's one of the highlights of the show thus far.
I can sense a slow romantic dynamic between Detective Martinez and Dr. Morgan. It seems natural, because both characters have lost the one great love of their lives. Perhaps this will just bring them closer as friends, but somehow I doubt it. He'll have to keep her at a distance unless he wants her to find out about his mortality deficiency, so that (while perhaps predictable) could go a lot of different ways, and I'm interested in seeing how the relationship progresses.
One of my favorite parts of the show for me thus far has been Joel David Moore's portrayal of the happy go lucky, socially inept Lucas. He made me laugh in the previous episodes, even when he didn't do much but aggravate or annoy Dr. Morgan. This week, however, he served a greater purpose in the resolution of the case, and it didn't disappoint. The whole moment with he and Henry as they discover the killer's identity is pretty fantastic, and all because of a doughnut. Hopefully they continue to find creative ways to incorporate Lucas into the story, because it makes the show that much better.
Ultimately, the whole mystery pulled toward a life lesson which was basically YOLO. I mean, it was more complicated than that, but it was preaching an occasional pit-stop for rose smelling, of which we could all use more This IS a beautiful world we live in, after all. It strayed a little toward cheesy during the end, but it wasn't out of place for the tone of the show.
Overall, I'm really enjoying Forever thus far. It does have to find its sea legs and still has work to do to keep an audience for an entire season, but it has all the potential in the world to do so. I'll leave you with a deep thought from Dr. Henry Morgan himself:
"Life is precious because it's finite"
Do you agree? What did you think of the episode this week? Are you planning on sticking with the show? Let us know!!
[Photo via ABC]