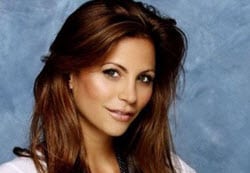 Sad news today as we're reminded that depression and suicide can affect anyone. Former Bachelor and Bachelor Pad contestant Gia Allemand was found hanging in her apartment this week by her boyfriend, NBA player Ryan Anderson. The hospital tried to revive her with no success. She was 29.
Her death was immediately ruled a suicide, though there's no indication if a note was found or not. Anderson released this statement about the death of his loved one.
"I'm deeply grateful for all the love and support we have received from family, friends and fans," Anderson said in a statement. "Gia was the most beautiful person I knew inside and out, and she always smiled and made everyone else around her smile.
"She had such an amazing impact on my life and anyone that knew her was blessed," he said. "All I have left is to cherish those memories we made together and help perpetuate the many values, faith and love that we shared."
The former Maxim model gave no indication that she was feeling so distraught to friends or family, and though her relationship with Anderson was said to have hit something of a rough patch, no one is said to have seen this coming. If anything can come from this, it should be that depression can affect anyone, and even people who appear fine on the surface could be harboring thoughts like these deep down. Take some time to reach out to someone you might think is struggling to day.
Rest in Peace, Ms. Allemand. Thoughts go out to her friends and family.