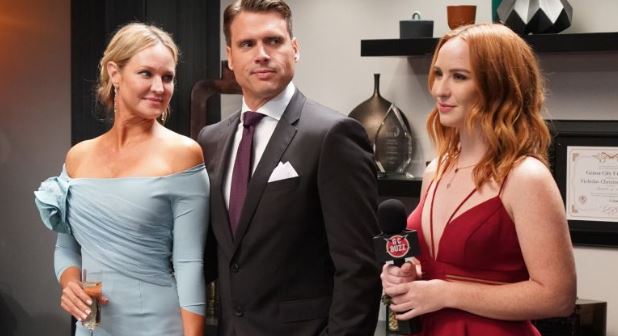 Young and the Restless fans are not going to be very happy if certain couples get back together, but it seems like that might just occur this year. There is a lot going on, and a lot of people have returned from places that we thought took them away for good. We've seen so many people from the past come back in the past few months, and we want to know if they are going to put any of these people back together with those they were once with. We aren't big fans of all the people who were together in the past. We don't want to see people with those we didn't like, and we are a little worried. We've come up with a list of couples who were together, aren't together now, and who we don't want to see get back together at all.
Nick and Sharon
She and Nick are a mess. They were once one of our favorite couples, and then things fell apart. We were hopeful for many years that they would end up back together, but that did not happen. They were so close to getting married earlier this year, and that fell apart when she realized he was sleeping with Phyllis behind her back. They cannot make one another happy even though they are clearly the couple who should be together. They are the ones who are most in love and who are most perfect for one another, but they don't know how to make it work with one another. They don't know how to give to one another as much as they take from one another, and that is their ultimate downfall. They are a mess, and we know it. We know that they are a mess in every capacity, and that's just that. We don't want to see them together again, ever.
Devon and Mariah
They were not a good couple. We never saw them with an ounce of chemistry, and we think that might be due to the fact that they both prefer women. Maybe she also likes men, but she is a woman who seems to prefer women to men, and that is not something that brings about a good relationship with another man. Mostly, though, we are just not into them because they never made sense. They didn't seem to have any chemistry with one another. They never seemed to have any feelings for one another. They always seemed like good friends who didn't know what to do to be romantic or happy with one another, and we didn't like it. We didn't want to see this happen, we didn't want to make it happen, and we didn't mind it when they called it quits. They realized that they did not have any chemistry and that they were not good together, and that was that. So, if the writers could also realize the same thing, we would all be in a good place with one another. They are not good, we don't like them together, and we like them only as friends. That's all there is.
Sharon and Adam
She seems to want to be with him. She seems to be a person who wants to be with a lot of people, and we could have made this list nothing more than all the people who we think that she should not be with. We could have centered this around her entirely, but we did decide to break it down to just the two we don't want to see her back with. She and Adam are a mess. They are not good together in any capacity. She might have some serious chemistry with him, and they might have all that to work with, but they are nothing short of bad for one another. He's not the kind of man who will ever make her wholly happy, and she will never be satisfied with him as a whole. She needs a man who will take care of her, and not a man who will do things for himself and then see her on the side as part of his back up plan. But, that's what she will get from him.