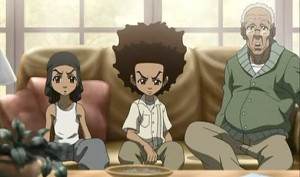 There is a God…
After The Boondocks debuted its third season last year, there was talk that the then current adventures of the Freeman clan and their fellow Woodcrest denizens would be their last. Fans were shocked at the news of not having to wait for another spectacular season of the controversial cartoon based on the long-running comic strip, which was also created by Aaron McGruder. However, rumblings from Comic-Con and a May 2011 interview with Granddad Freeman himself, John Witherspoon, suggest that The Boondocks's demise is greatly exaggerated.
Back in May in an interview with Hot 103.5 based in Sacramento, California, John Witherspoon had this to say about a fourth season of The Boondocks:
Witherspoon: Well you know what happened? They were telling me all the time in the last six months that it's not coming back, but I talked to Aaron McGruder and it is coming back.
As if that quote wasn't enough to get you excited for The Boondocks returning to your TV screens, Screen Rant's Kofi Outlaw spoke to The Boondocks's voice casting director Andrea Romano this weekend at Comic Con and managed to catch that Romano was speaking in the present tense when discussing the hit Adult Swim show. Finally, Outlaw got Romano to make a statement on The Boondocks's future. "They're making new ones — I just got word they're gonna make another season. Can you believe it? After all this time," Romano relayed to Outlaw.
So usually I'd be pretty set with these two confirmations from these reputable sources, but after the recent Glee controversy involving contradicting reports between producers and what not, I'm sadly going to have to wait until Aaron McGruder and Adult Swim make a formal announcement on a Season Four for The Boondocks. However, John Witherspoon and Andrea Romano's quotes make as if that announcement is not too far around the corner.
The last episode of third season of The Boondocks, "It's Goin' Down," was not the expected proper send off for a show that garnered critical acclaim (and backlash in some instances) for skewering politics, race relations, celebrities and urban culture in general. So, until McGruder and Adult Swim back Witherspoon and Romano's claims, I'm going to have my fingers and toes crossed for us to see Huey, Rile, Granddad and gang's latest commentary on the state of the world today.
Are you excited about a 'possible' fourth season of The Boondocks?
Source: Screen Rant, YouTube