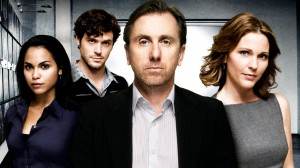 Fox is the first network to present their 2009-2010 Fall lineup next week at their Upfront Presentation with advertisers, but they jumped the gun yesterday and gave some early pickup news, as well as a renewal. Fox announced that Lie to Me, which stars Tim Roth as Dr. Cal Lightman, will be renewed for a second season. Dr. Lightman and his team are effectively human polygraph machines, and no truth can be concealed from them. The series has done very well for Fox this year and is said to have been picked up for 13 episodes next season.
In addition to the renewal news, Fox also announced two pilots that would be hitting their fall schedule next year as new series. The much hyped and obvious Human Target was picked up, as well as the new comedy Sons of Tucson.
Sons of Tucson is about three very wealthy children who hire a hustler to fill in as their father, while their real dad does time in prison for a white collar crime. The series stars Tyler Labine, who you might remember from the short lived Invasion, as well as Jake Busey, Frank Dolce, Davis Cleveland, and Troy Gentile.
It stands a better chance that you've heard of Human Target, which was also a DC Comics character who first appeared in Action Comics back in 1972. Target follows Christopher Chance (Mark Valley of Boston Legal and Fringe fame), a troubled and mysterious freelance body guard/private investigator who assumes the identities of people in danger, becoming the "human target" on behalf of his clients. Target's pickup comes as no surprise as it jumped out last week as the front-runner pilot scoring the highest marks at Fox's internal screenings last week.
It is also rumored that the pickup of Human Target could end up being the savior for the ratings feeb Dollhouse. By all intents and purposes, Dollhouse seems as though it would be a dead series. Their ratings for the season finale dipped down into the territory of the CW's shows, and Fox giving them the ax seems to be a sure thing. However, there has been a recent rumor circulating that at least one executive at Fox thinks that Dollhouse would pair up nicely with Human Target next season. Add to this rumor the fact that Fox did drop the Joss Whedon series into the scheduling pits of sci-fi hell, on Friday nights, and the fact that Twentieth Century Fox produces the show (which means licensing fees are kept within the Fox Family), and you can almost smell the hopes for renewal in the air. We'll find out for sure what the fate of Dollhouse is next week, and until then fans of the show can only hope that Human Target might give their favorite show another chance.
Source: THR, Airlock Alpha
Source: Futon Critic