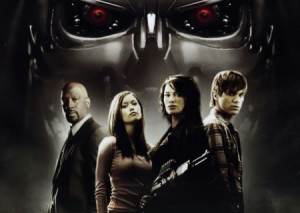 Over the busy weekend reports of Fox choosing to renew Dollhouse sent that fandom ablaze with excitment, and at the same time sent the hopes for fans of the Sarah Connor Chronicles to the floor. Therefore, it came as little surprise today when Fox announced, officially, that Terminator: The Sarah Connor Chronicles would not be renewed for a second season.
"[Sarah Connor] has completed its run," Fox entertainment president Kevin Reilly confirmed at a press conference this morning. "I think it had a nice little run. It was a good show. It was not an either or [with Dollhouse]. We did see it tailing off a bit [in the ratings]. It had a nice creative core, but, ultimately, we made the bet on Dollhouse, so that's it for [Sarah Connor]… We make no apologies. We gave it a lot of support and some consistent scheduling. We tried and thought it was time to move on."
It is doubtful that the show's core fan base will support the ideals of Fox's entertainment president. Sarah Connor was actually doing fairly well in the ratings when it premiered last year, and it wasn't until they moved the show to the doomed Friday night that the ratings began to really tank. Ultimately, Dollhouse won out in the ratings, and has even gotten better reviews in some of its final episodes of the season. Add to that the show's creator, Joss Whedon's fan following and it seemed a sure thing that Sarah Connor would never make it, but that didn't stop loyal fans from keeping hope.
Rest in peace, Sarah Connor…you'll be missed.
Source: Ausiello Files