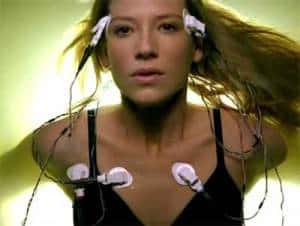 Fantastic news from Fox today, as they announced they are giving cult favorite, FRINGE, a second season. This comes as little surprise, as the show is the number one new series among adults 18-49. Not only did Fox renew the series, they gave it a full season pick-up, something that many of the networks are hesitant to do these days.
FRINGE stars Anna Torv, Joshua Jackson, and John Noble; with an exceptional supporting cast which includes Blair Brown and Mark Valley. The drama is centered around Anna Torv's FBI agent, Olivia Dunham, who works with a formerly institutionalized scientist (John Noble), and his son (Joshua Jackson), in order to understand and solve a plethora of unexplained phenomena. It sounds like The X-Files, yes, but the difference is this; they don't want to believe, they do believe.
Kevin Reilly, President of Entertainment for Fox Broadcasting Company had this to say:
FRINGE proved to be a notable addition to our schedule all season, and it really has fans buzzing as it builds to a fantastic season finale. J.J. and the whole Bad Robot team have been phenomenal partners, and we look forward to years of making great television with them.
J.J. Abrams, series co-creator and executive producer said:
FRINGE continues to gain momentum, creatively and with viewers. We couldn't be more thrilled that FRINGE will continue to freak people out for at least another season!
Really, did you expect any less from Mr. Abrams? This is why we love him and continue to follow wherever he leads us!
From the press release:
In the climactic finale, airing Tuesday, May 12 (9:04-10:00 PM ET/PT), discoveries are made, loyalties are tested, otherworldly origins are discovered, and guest star Leonard Nimoy debuts as a pivotal person of interest.
The usual freaky FRINGE stuff ramped up for the finale and Leonard Nimoy? Really, what more could you ask for?
If you have missed any of the first season of this phenomenal show, full episodes are available at fox.com and hulu.
The full press release can be found here.
Source: Fox Broadcasting Company