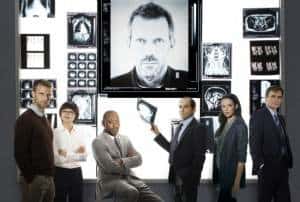 With May sweeps approaching quickly, Fox has announced episode details for its shows, including details for the season finales of Bones and Glee, and the series finale of House.
MONDAY
Mondays this May are nights of gripping drama and a bittersweet goodbye with three all-new hours of BONES and the last four episodes of FOX's award-winning, groundbreaking series, HOUSE, including installments directed by series star Hugh Laurie and Peter Weller and the two-hour Series Finale event on May 21, in which the final hour — and series finale episode — is directed by series creator and executive producer David Shore.
Monday, April 30
BONES (8:00-9:00 PM ET/PT) — 'The Family in the Feud'
After a corpse is found in the middle of the woods, the Jeffersonian team links the victim to two families that have been feuding for almost a century. Brennan (Emily Deschanel) and Booth (David Boreanaz) discover that the victim only had weeks to live before he was brutally murdered, and a family member with a shocking confession brings them closer to finding a motive. Meanwhile, Brennan has difficulty accepting her father Max's (guest star Ryan O'Neal) offer to babysit Christine.
HOUSE (9:00-10:00 PM ET/PT) — 'The C-Word'
In an all-new episode directed by series star Hugh Laurie, the team takes on the case of a six-year-old (guest star Rachel Eggleston) with numerous pre-existing health problems. They soon realize they must work with the girl's mother, Elizabeth (guest star Jessica Collins), a doctor who specializes in her daughter's genetic condition. But while searching the family's home for clues, the team discovers that Elizabeth's determination to cure her daughter could be the very thing that is killing her. Also, House (Laurie) and Wilson (Robert Sean Leonard) take a little vacation.
Monday, May 7
BONES (8:00-9:00 PM ET/PT) — 'The Suit on the Set'
Brennan and Booth head out to Los Angeles to consult on the production of 'Bone of Contention,'a film based on Brennan's latest book and the work of the Jeffersonian team. While on set, Brennan intervenes after finding flaws with the actors'performances, not to mention the film's total disregard for science. Then she discovers that the prop cadaver being used is an actual murder victim, forcing her and Booth to launch an investigation that has real-world consequences in the land of make-believe. Meanwhile, Booth is offered a job on the studio lot, and embarrassing information is revealed about Cam's (Tamara Taylor) past.
HOUSE (9:00-10:00 PM ET/PT) — 'Post Mortem'
In an episode directed by and guest-starring Peter Weller ('Dexter,"RoboCop'), the team takes on the case of Dr. Peter Treiber (guest star Jamie Elman), a pathologist at Princeton-Plainsboro Teaching Hospital who knows too much about the hospital staff to trust any of the physicians. The only person he does respect is House, who has mysteriously gone missing. With House in absentia, the team has to figure out how to treat Treiber while making him believe that House is calling all the shots.
Monday, May 14
BONES (8:00-9:00 PM ET/PT) — 'The Past in the Present'— Season Finale
Ryan O'Neal guest-stars in the season finale of BONES. Evil tech genius Christopher Pelant (guest star Andrew Leeds), a suspect in a previous case Brennan and Booth handled, is back in court on appeal. Knowing what he is capable of, Brennan and Booth inform the judge that he is a suspect in two murder cases. Then, Brennan and Booth are called to the scene of a new murder. After determining the victim is Brennan's friend, who also is linked to Pelant, the Jeffersonian team works to prove he is guilty once and for all. But when law enforcement examines the team's findings, key pieces of evidence are tied to Brennan and suspicion falls on her.
HOUSE (9:00-10:00 PM ET/PT) — 'Holding On'
Former Princeton Plainsboro colleague Thirteen (guest star Olivia Wilde) returns in an all-new episode. The team takes on the case of Derrick (guest star Skylar Astin), a 19-year-old college student who had a mysterious nose bleed during cheerleading practice, and discovers that his health issues are likely both physiological and psychological. Possibly suffering from schizophrenia, Derrick claims to hear his deceased brother's voice in his head. Meanwhile, Foreman (Omar Epps) tries a different approach with House.
Monday, May 21
HOUSE (8:00-10:00 PM ET/PT) — 'Swan Song (HOUSE Retrospective) / Everybody Dies (Series Finale)'— Series Finale Event
The special two-hour HOUSE Series Finale event kicks off with a one-hour retrospective special that will look back at this groundbreaking, seminal series and feature interviews with the series'stars and producers, special original content and other surprises. Then, in the emotional series finale, directed by series creator and executive producer David Shore, treating a drug addict patient (guest star James LeGros, 'Mildred Pierce') results in House examining his life, his future and his own personal demons.
Next page: Tuesdays…