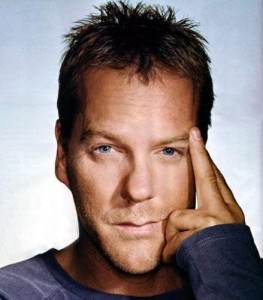 Touch from Heroes creator Tim Kring has been given a 13 episode order from FOX. The drama concerns Martin Bohm played by Kiefer Sutherland (24) whose mute son Jake possesses a seemingly paranormal ability to see and connect patterns that no one else is even remotely aware of. Problem is, he communicates what he sees in a complex mathematical 'language'. The series chronicles the impact of what happens once the true nature of his ability is revealed both on the people subject to his unique vision, and the relationship with his father.
FOX Broadcasting Company President of Entertainment Kevin Reilly announced the series pickup today, reflecting on the networks successful relation with Kiefer Sutherland. 'Touch is another ambitious series from Tim Kring that is beautifully executed and has incredibly resonant themes for our times,'said Reilly. 'With Kiefer back on the network as the face and force behind this creative new series, I'm confident it will resonate with viewers this spring.'
Sutherland himself spoke to the uniqueness of the story and the talent behind it as key to his getting on board Touch. "Every once in a while, you encounter a piece of material that you just cannot say no to. That, combined with the opportunity to work again with Peter Chernin and the Fox studio and network, makes me thrilled to be a part of this project. I also look forward to working with an extraordinary writer and producer like Tim Kring."
Touch will air in spring of 2012.