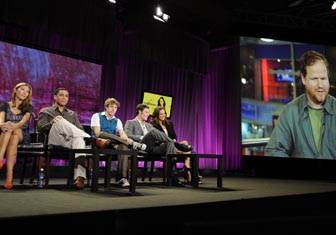 Dollhouse was famously yanked from the abyss last season and given a very last minute renewal, and you'd think that would make any hope of a third season just as distant, right? Wrong. In fact, Fox President of Entertainment Kevin Reilly gave some very encouraging words for Dollhouse fans at the FOX TCA event this week. While Dollhouse season 3 is definitely not a lock, all it would take is consistency.
"We want the same stability we had last year. The same ratings would be just fine. We're looking at the cume [cumulative] as well. I'd like to see it continue its creative consistency, which I believe it will and I want to see a show we can lock in to week-in and week-out." Reilly said in response to questions of what FOX was looking for in terms of success for Dollhouse.
None-the-less, Dollhouse is going into its second season without a full order. The series will need to prove itself to get a back-nine before we even need to worry about season 3. The exploratory-sized order shouldn't be taken as lacking of faith, though. Cynics might take the reduced order to mean that FOX, despite Reilly's apparent faith, is treading lightly with the new show. In fact, all of the networks are cutting budgets and looking for ways to cut costs – Dollhouse would be one of the last shows to be immune to those cuts given its underdog status.
Dollhouse will have to work with a reduced operating budget as well, but Reilly has faith that producer Joss Whedon will feather the edges of the cuts. 'They had to trim the budget a bit. I don't think it will change anything. Joss is an outstanding producer. He knows how to do this. He's way ahead of it. It comes under the heading of smart producing. This is not a guy who is going to say '˜I'm going to do a lesser show'and the audience is going to say '˜Joss, what have you done?'It's not incumbent on him to make the same show efficiently.'
Source: ifmagazine