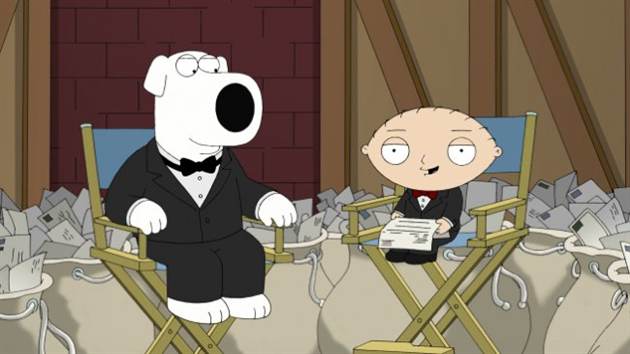 Fox will have a big presence at this year's San Diego Comic-Con, taking place July 12 to 15. In addition to panels for many of its popular returning shows, including Bones, Family Guy and Fringe, it will be introducing the Kevin Bacon-led drama The Following to fans. In addition, the Fox booth on the convention floor will be the place to be for Fox merchandise giveaways.
Here's all the details for panels, autograph sessions and merchandise:
Friday, July 13
BONES 1:45-2:45 PM — Ballroom 20: Cast members David Boreanaz and Emily Deschanel join executive producers Hart Hanson and Stephen Nathan to preview clips from Season Eight, followed by a Q&A session.
BOB'S BURGERS 4:00-5:00 PM — 25ABC: Creator/executive producer Loren Bouchard, executive producer Jim Dauterive and voice cast members H. Jon Benjamin, John Roberts, Dan Mintz, Eugene Mirman and Kristen Schaal will be on the panel to preview clips from the upcoming season and answer questions. Fans who attend the BOB'S BURGERS panel will receive a ticket for a Comic-Con exclusive BOB'S BURGERS messenger bag.
FRIDAY Autograph Signing at Booth #4313:
1:15 PM BOB'S BURGERS Cast & Producers
3:00 PM BONES Cast & Producers
Saturday, July 14
THE SIMPSONS 12:45-1:30 PM — Ballroom 20: Entering its unparalleled 24th season this fall, THE SIMPSONS continues to be the gold standard of animated comedy. Moderated by David Mirkin, THE SIMPSONS panel features creator Matt Groening, showrunner Al Jean, supervising producer Mike Anderson and voice talent Yeardley Smith, plus a sneak peek of this season's 'Treehouse of Horror XXIII'episode and a look at the 'The Longest Daycare.'
FAMILY GUY 1:45-2:30 PM — Ballroom 20: Join FAMILY GUY voice cast members Mila Kunis, Alex Borstein and Seth Green, executive producers Mark Hentemann, Steve Callaghan and Kara Vallow, and creator/executive producer Seth MacFarlane for a sneak peek of the upcoming season, followed by a Q&A session.
AMERICAN DAD 2:30-3:15 PM — Ballroom 20: Join AMERICAN DAD voice cast members Wendy Schaal, Scott Grimes, Rachael MacFarlane and Dee Bradley Baker, writer Jordan Blum and executive producers Mike Barker, Matt Weitzman and Seth MacFarlane for an exclusive look at next season, followed by a Q&A session.
THE FOLLOWING 4:00-5:00 PM — 6BCF: Join creator/executive producer Kevin Williamson, executive producer Marcos Siega and cast members Kevin Bacon and James Purefoy as they unveil the chilling new midseason drama, followed by a Q&A session.
GLEE 5:00-6:00 PM — Indigo Room Hilton Bayfront: Join co-creator/executive producer Brad Falchuk as well as cast members Lea Michele, Cory Monteith, Darren Criss, Kevin McHale, Jenna Ushkowitz and Naya Rivera for a Q&A session, in which fans will get a glimpse into life after McKinley when new and exciting details about Season Four are revealed.
SATURDAY Autograph Signings at Booth #4313:
12:15 PM FAMILY GUY/AMERICAN DAD Cast & Producers
2:30 PM GLEE Cast & Producer
5:15 PM FRINGE Cast
Sunday, July 15
FRINGE 10:00-11:00 AM — Hall H: In the series'final appearance at Comic-Con, cast members Josh Jackson, Anna Torv, John Noble, Jasika Nicole, Lance Reddick and Blair Brown join executive producer J.H. Wyman for an exclusive video presentation and Q&A session, during which new details about the fifth and final season of this groundbreaking drama will be discussed.
THE CLEVELAND SHOW 1:45-2:45 PM — Hall H: Join THE CLEVELAND SHOW for an exclusive look at next season and a sneak peek of the not-to-be-missed season premiere episode 'Menace II Secret Society,'followed by a discussion with show creators/executive producers Seth MacFarlane, Mike Henry and Richard Appel, executive producer/voice cast member John Viener, along with voice cast members Kevin Michael Richardson, Reagan Gomez and Jamie Kennedy.
SUNDAY Autograph Signings at Booth #4313:
10:00 AM THE FOLLOWING Cast & Producers
12:15 PM THE CLEVELAND SHOW Cast & Producers
Merchandise
Drop by the FOX booth (#4313) daily for Exclusive and Collectible Mini-Posters from AMERICAN DAD, BOB'S BURGERS, BONES, THE CLEVELAND SHOW, GLEE, FAMILY GUY, FRINGE, THE FOLLOWING and THE SIMPSONS, among other FOX FANFARE properties.
Limited edition premium items will also be distributed from the booth (while supplies last). Collect all five of this year's ANIMATION DOMINATION Light-Up Buttons featuring:
Bart from THE SIMPSONS
Stewie from FAMILY GUY
Louise from BOB'S BURGERS
Roger from AMERICAN DAD
Rallo from THE CLEVELAND SHOW
BONES Skeleton Glove
THE FOLLOWING 'Friends of Carroll'Graphic T-shirt
FRINGE Observer Fedora Hats
GLEE Multi-Colored Yo-Yos
THE SIMPSONS Bart Simpson Crowns
And, fans who attend the BOB'S BURGERS panel will receive an exclusive BOB'S BURGERS messenger bag.