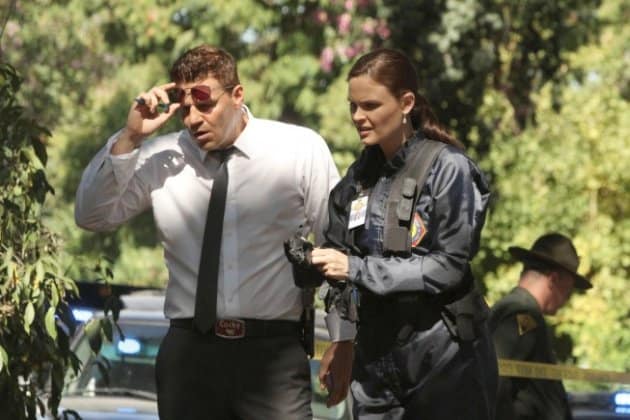 November sweeps are nearly upon us and Fox has released details for all of its shows throughout the month.  Want teasers about what's coming next for Bones, Family Guy, Fringe and more?  Here's what you need to know, day by day.
MONDAYS
Monday, Oct. 29
THE X FACTOR (8:00-10:00 PM ET/PT) – "Auditions #3"
In an encore episode, the auditions in front of audiences of thousands in Kansas City, KS, and Austin, TX, continue on THE X FACTOR.
Monday, Nov. 5
BONES (8:00-9:00 PM ET/PT) – "Method to the Madness"
The Jeffersonian team investigates the death of a woman whose body was found mutilated and discarded in a city garbage can. Meanwhile, Booth (David Boreanaz) invites Sweets (John Francis Daley) to stay with him and Brennan (Emily Deschanel) while he searches for a new apartment.
THE MOB DOCTOR (9:00-10:00 PM ET/PT) – "Legacy"
Dr. Grace Devlin (Jordana Spiro) fights for a critically ill woman's (guest star Laura Breckenridge) heart transplant, when she is asked to kill this same patient's estranged and imprisoned father (guest star Brian Goodman) in order to save her life.
Monday, Nov. 12
BONES (8:00-9:00 PM ET/PT) – "The Patriot in Purgatory"
While investigating the remains of bodies that have been deemed unidentifiable, five "squinterns" uncover the identity of a man who died as a result of the 9/11 terrorist attacks, propelling the Jeffersonian team to determine if he was a perpetrator or a victim.
THE MOB DOCTOR (9:00-10:00 PM ET/PT) – "Complications"
Emotions reach a breaking point when Grace and Brett (Zach Gilford) struggle with their demanding and hectic schedules. Meanwhile, Grace finds herself in a perilous situation when mob boss Paul Moretti (guest star Michael Rapaport) takes matters into his own hands.
Monday, Nov. 19
BONES (8:00-9:00 PM ET/PT) – "The Bod in the Pod"
When a crime scene cleanup expert's remains are found mysteriously sealed in an impenetrable pod that washed up on the beach, the team tackles one of their most challenging investigations. Meanwhile, Angela (Michaela Conlin) and Hodgins (TJ Thyne) learn of a secret romance in which Cam (Tamara Taylor) is involved.
THE MOB DOCTOR (9:00-10:00 PM ET/PT) – "Turf War"
When two innocent bystanders are caught up in an ambush meant for Franco (James Carpinello) and the rest of Moretti's crew, Grace joins the action. As the war between Moretti (guest star Michael Rapaport) and Constantine (William Forsythe) escalates, Grace makes a critical move in an attempt to end the feud.
Next page: Tuesdays…