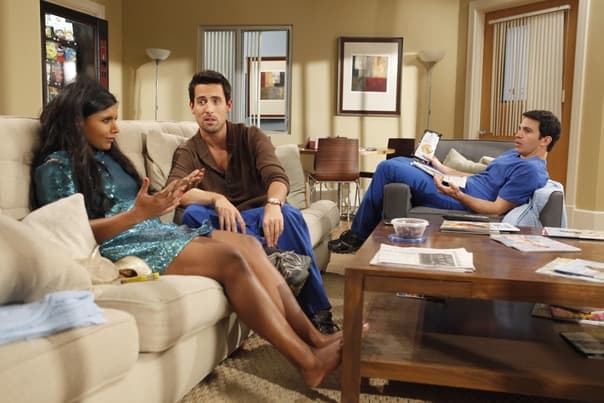 The closer that it gets to the kick-off of the 2012-13 television season, the more advance looks networks will be trying to give their viewers in hopes of snagging them early and keeping them for fall. NBC has already debuted multiple new comedies through post-Olympic (and subsequent digital) sampling and now FOX has joined in on the fun, allowing The Mindy Project and Ben & Kate to be streamed for a limited time.
Beginning today and ending on September 9th, you can view FOX's new fall comedies on various platforms, including Facebook, Hulu, IMDB, Yahoo, FOX.com, hellogiggles.com, amazon.com, xbox.com, Xfinity, and VOD. Last fall, New Girl was available before its official premiere date and surprised many with its opening ratings, so the strategy may pay-off again for FOX. The Mindy Project, from The Office's Mindy Kaling (herself a best-selling author), tells the story of an unlucky-in-love OBGYN obsessed with finding her own romantic comedy-esque love story. The show co-stars Ed Weeks, Chris Messina, and Anna Camp. Ben and Kate follows two polar-opposite siblings (man-child Ben and straight-laced Kate) as they try to raise Kate's five-year-old daughter Maddie together. Together they hope to give each other what the other is lacking (Ben has no direction, Kate has no sense of fun) and help Maddie turn out to be a pretty cool adult. Ben & Kate will star Dakota Johnson, Nat Faxon, and Maggie Jones.
Ben & Kate premieres Tuesday, September 25th at 8:30 on FOX, with The Mindy Project debuting the same night at 9:30. New Girl and Raising Hope will round out the Tuesday night comedy line-up. You can watch the pilots for each below on Hulu.
Will you be watching either, neither, or both of The Mindy Project and Ben & Kate this season? Does a network releasing a pilot early make you more apt to give it a shot? How do you think both shows will do in the ratings this season?