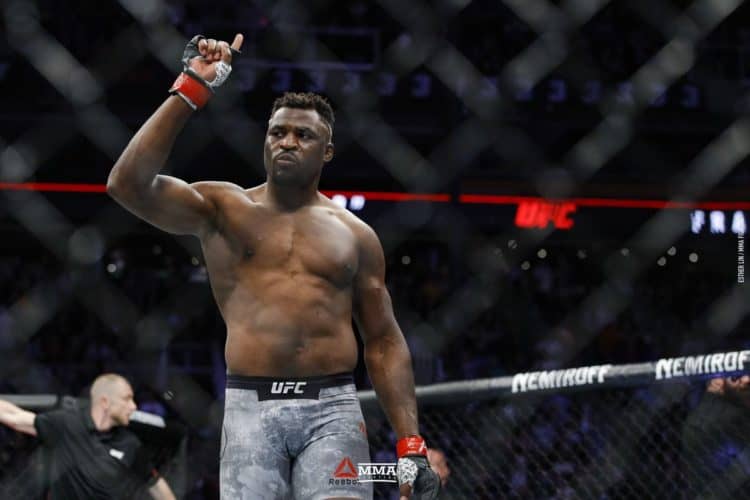 They say that sometimes when you find yourself at the bottom, it is a good thing because you cannot go any lower than that. Instead, the only way to go is up, and that is the life story of Francis Ngannou. He has tasted two very different worlds, having grown up in poverty and now driving a Mercedes. Get to know more about this boxer through these facts as revealed on Wikipedia.
1. His father's bad reputation motivated him to be a boxer
Our experiences help shape us negatively or positively into the people we become later in life. Francis Ngannou's childhood had lots of challenges, including his parents divorcing. What was worse is the villagers expecting him to follow in his father's footsteps. However, Francis was set on changing the narrative in his family. Therefore while his father was known as a street fighter, Francis decided to fight for a living, but professionally; not engaging in brawls in bars.
2. He helps children in Cameroon achieve their dreams
Once you have had the experience of having nothing and yet someone helps you make your dreams come true, then the principle of paying forward instead of paying back applies. Francis has used this principle to form a foundation in his names in which he ensures that the children back in his home country can venture into sports as a career. He, therefore, supplies boxing equipment and bought land to set up a gym, which is the first in Cameroon to offer combats sports.
3. He has little formal education
When your family is struggling to make ends meet, the choice between food and education is not one that will favor you attending school. Francis Ngannou's family did not have much money, and Francis had to be raised in poverty. Therefore even if he went to school, it was only for a while before being sent home for lack of fees. He gave up and at 12 began working in a sand quarry for a living. As a result, Francis did not receive much formal education as a child or an adult. Perhaps now that he has money, he might sign up for online classes.
4. He once lived on the streets
No matter how poor you are, as long as you can afford the basic needs, then life is not as unbearable as many people assume it to be. However, when you cannot afford a roof over your head, then you have hit rock-bottom. Francis knows too well the pain of living in the chilling cold in the night because when he moved to Paris in search of a better life, he had nothing. Without a friend or money, Francis had to live on the streets until his luck changed.
5. He learned English as an adult
The Queen's language has always been thought to be mother tongue to everyone. Even in countries that some various other languages are spoken then English is adopted as the official language. Unfortunately, Francis grew up in a country where French and other local languages were spoken. It is no wonder that he went to France since he knew there communication would not be a hindrance to his search for greener pastures. However, when he joined the Ultimate Fighting Championship (UFC) a few years ago, he had to learn the language.
6. In 2017, he won "Knockout of the Year."
Boxing may be a sport to keep us entertained but for the fighters, then winning is the only way to ensure the dollars keep accumulating in the bank. When Francis made his debut in the UFC in 2015, he won through knocking out his opponent in the second round. In the subsequent matches, Francis continued defeating his opponents via knockouts, but it was in 2017 when he had a high-profile fight against Alistair Overeem. Francis won through another knockout this time in the first round leading most media channels such as ESPN, Bleacher Report and SB Nation, to name it the knockout of the year.
7. He will star in Fast & Furious 9
Fast & Furious is one franchise that has never failed to disappoint its fans. Paul Walker may be gone, but still, the movie has not relented in their efforts of giving us the ultimate experience. Whether it is the thrill of racing, the action, or the diverse cast, this movie is one that never loses its touch with the audience. Now that there will be an upcoming ninth installment next year in May, apart from Join Cena joining the cast, Francis Ngannou is also being cast as disclosed by Okaya Africa.
8. He ranks #2 in UFC's heavyweight division
In 2017, Francis was supposed to face Dos Santos, but after USADA potential violation, Dos Santos pulled out of the fight leading to Francis facing Alistair. By February 2019, Francis was ranked the second on UFC's heavyweight division. When the chance to fight Dos Santos in June this year came, Francis did not let his fans down by knocking out his opponent in 71 seconds. While that would have led us to believe that he would clinch the top spot since he had the most finished in his division, Francis remains the second according to the ranking on BJPenn.com.
9. He was coached for free by Didier Carmont
In a world which always seems to be run by money, you would expect that everyone will do anything for some quick cash. However, some of us still have a bit of humanity and sympathy that pushes us to be kind to our fellow human beings. When Didier met Francis, the boxer was living in the streets of Paris, yet his dream to be a boxer was still alive. All Francis knew was that he wanted to be like Mike Tyson. When Didier took him under his wing and coached him, Didier introduced Francis to MMA and Francis has never looked back.
10. His net worth stands at $250,000
The ring has led fighters to be multimillionaires with the likes of Manny Pacquiao, Floyd Mayweather, and Oscar De La Hoya being the ideal examples. However, they all began from the bottom, and Francis has only just started his climb to the top. Hitberry details out his salary and bonuses which by now have accumulated to a net worth of $250,000. Now that he ranks highly in UFC, Francis is bound to make even more cash in his career.