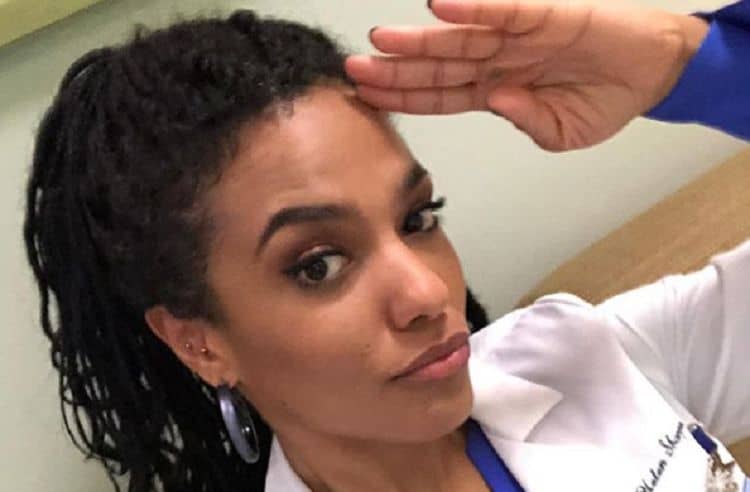 Since making her name as Martha Jones on Dr. Who, British actress Freema Agyeman has left London for LA and is currently making waves in New Amsterdam, NBC's smash medical drama. Now in its second series (and with three more already confirmed), the show has put Agyeman firmly on the map. Find out more with these ten little facts.
1. Acting came about by accident
Unlike a lot of actors who start dreaming of a life on the stage before they're even weaned, Agyeman didn't start considering it seriously as a profession until later. "I thought I'd give acting a go but I fluctuated all the time," she told ONTD. "I was the type who wanted to be a doctor, then an architect, then a marine biologist. I watched films and loved all that but then I would see a cat and want to be a vet."
2. She's a sore loser
Asked by the Independent to name her greatest flaw, Agyeman admitted she's a terrible loser. "I've been playing pool a lot with my boyfriend recently and I'm a bit of a sore loser. I need to work on that," she shared. And her greatest strength? Making lists, even if it doesn't always end well. "I'm very good at being fiercely organized, in theory," she explained. "I'm a serial list-maker, but it always goes hideously wrong as I never get any of it done. I have great potential organizational skills."
3. She has a symbolic tattoo
Agyeman's no coward when it comes to getting inked. As anyone who's ever seen her, somewhat frequent, nude scenes in Sense8 will know, the actress boasts an intricate tattoo on her upper arm. The tattoo does more than just add decoration: rather than opt for an ornate but meaningless scribble, Agyeman chose to celebrate her Persian ancestry by opting for a butterfly and the word "Raha" – the Iranian word for "free".
4. She made her screen debut on Crossroads
In 2003, Agyeman made her screen debut as Lola Wise in the ITV soap opera, Crossroads. The role (which earned the actress a nomination for Best Newcomer at the British Soap Awards) opened the door to further opportunities, including small parts in The Bill, Casualty, Mile High, and Silent Witness. In 2007, Agyeman landed her first lead role as Martha Jones in Doctor Who. The series proved Agyeman's breakthrough; since then, she's bagged recurring and main roles in the likes of Little Dorrit (2008), Law & Order: UK (2009-2012), The Carrie Diaries (2013-2015), Old Jack's Boat (2013-2015). Sense8 (2015-2018), and New Amsterdam (2018-present).
5. She's returning to the Dr. Who universe
Agyeman may have left Dr. Who in 2008, but she's never lost her affection for the show- or her willingness to make a return to the Dr. Who universe. Between 2008 and 2010, she reprised the role of Martha Jones over several specials, while in 2008, she popped up in multiple episodes of the spin-off series, Torchwood. This year, she's re-visiting the character once again in the Big Finish audio story, Torchwood: Dissected. Agyeman has hinted at a return to the franchise previously, telling the Radio Times "I had a really great time on the show, I really loved the character, it brings so many people so much joy. So never say never! I feel like there was more to explore with Martha, definitely, but I don't know what form that would take."
6. The Sense8 nude scenes scared her
In 2015, Agyeman joined the cast of Sense8. Despite having always wanted to work with the show's creators, Lana Wachowski and Lilly Wachowski, the actress couldn't help but be slightly intimated by the sudden requirement to throw her inhibitions to the wind and get down to some seriously racy scenes. "It scared me in so many ways," she shared with The Big Issue. "It was my first American role, my first nudity, my first real love relationship. The pressure to convey that emotion authentically was a huge challenge." Fortunately, she quickly adapted, adding "Once you take your clothes off and dive in it's strange how quickly it becomes comfortable. Fear is just a word."
7. She was the "Face of 2007"
Shortly after landing the role of Martha Jones on Dr. Who, Agyeman received the ultimate accolade when she was named the "Face of 2007" by the Observer. The tributes didn't end there: that same year, she bagged the People's Choice category for "Female TV Star" in the Screen Nation Film and TV Awards, along with the "Best Newcomer" at the 2007 "Glamour Women of the Year Awards".
8. She's got some great advice for aspiring actors
If you dream of being the next Hollywood superstar, you won't go far wrong by taking Agyeman's advice and getting your materials ready to go. "Practically, you need to get things like a show reel together, your headshots, and your CV," she explained to Backstage. "Drama schools are always doing special projects or end-of-year shows, and they need people, and you can just go and offer your services for a cut of the reel. If you can do a few of those, you can compile a showreel, [then] you have three or four clips of [high-quality] production stuff."
9. She found New York intimidating
In 2013, Agyeman was cast in The Carrie Diaries, a role that required her to up-sticks from her native London and move to New York. It was an experience the actress found more than a little daunting. "When you know your city – I've lived in London my whole life, and I can get from A to B any way I need to," she explained to Assignment X. "I feel like a wide-eyed Carrie Bradshaw myself (in New York). I think all of us that are not from New York do. Suddenly, we're freaks, and you stand still on the spot and go, "I don't know where to go and what to do!"
10. Her sister in law helped her prepare for Law and Order
Between 2009 and 2012, Agyeman starred as Crown Prosecutor Alesha Phillips on the UK spin-off from the US Law & Order franchise, Law & Order: UK. It was a role that needed some serious prep work, but fortunately, the actress had a head start thanks to her sister in law Leila, who holds a law degree. "She's great and really patient at explaining things to laymen because I was coming at it completely blind," she explained. "She's been a good source."