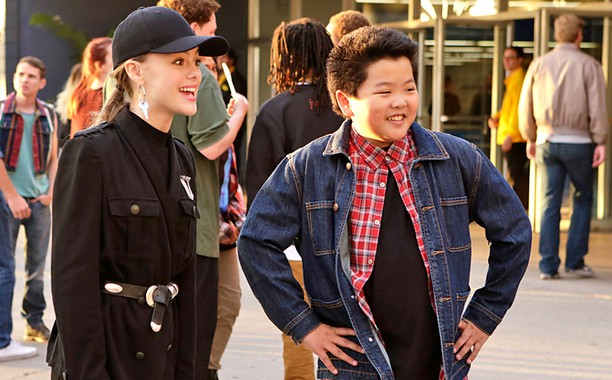 Fresh Off the Boat's two for two in 2016 with holiday episodes, moving right from Chinese New Year into Valentine's Day, without so much as a breath in between them in "Love and Loopholes". An experimental episode that played around with the show's normal pairings and rhythms, Fresh Off the Boat's tales about love is the definition of a mixed bag, nailing some important emotional beats, while completely abandoning other characters and narratives in the same episode.
Eddie is obviously the short stick here; he's stuck at a Janet Jackson concert he's not actually at, which all but eliminates him from any meaningful participation in the other stories, which examine the two central marriages on the show through each of the smaller Huang children (oh yeah – Grandma's not there either, an odd episode to have her missing, given her perspective on love). It makes for a very odd mixture of elements; Emery's maturity (both as an actor and character) is obviously the most satisfying emotionally, because he gains a greater understanding of what romance means in marriage, and how the pedestrian moments in a relationship are often more memorable and meaningful than the large gestures. On the other side, however, there's a Ray Wise comedic showcase happening, stealing attention from the deeper emotional play in Emery's story; that fight for attention ultimately sells both of the stories a bit short.
I'm certainly happy to see Ray Wise get his; Honey's grown into a fantastic supporting character throughout this second season, and Marvin deserved to get his due, too, which he finally gets in this episode. Unfortunately, the texture added to Marvin is mostly comedic; he bumbles through the episode, smiling and trying to act on the fly when he reveals to Evan and Honey that he was married twice before he met Honey – in and of itself something that feels like a decidedly minor story, one that "Love" has to stretch out to fill one of the three main story slots. Thankfully, the episode can work coasting on Wise's comedic timing with the rest of the cast, capping off a fairly weightless story with a superficial, adorable little cherry on top; it was the definition of "mildly pleasant", neither fully realizing its promise, or suffering under the weight of its own expectations.
With back to back holiday episodes, it does feel like Fresh Off the Boat is stalling itself a bit, holding its larger stories in a holding pattern while it pads out its season order with some perfunctory tales that bring the family closer together. There's nothing wrong with that, of course, but it feels like "Love and Loopholes" in particular falls short of its potential, if only because it doesn't explore Emery's maturity in a slightly deeper fashion – though his final moments where he tells his parents how he learned what romance really was, is an undeniably satisfying moment. With some holiday episodes out of their system, now Fresh Off the Boat can get back on track – if anybody would realize its time to get back to business, it's the tax-dominating Huang patriarchs.
Fresh Off the Boat Season 2 Episode 12 Review:
Summary
Fresh Off the Boat's recent infatuation with holidays continues with a solid, somewhat limited Valentine's Day episode.