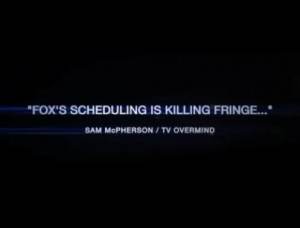 Earlier this week I posted a poll to determine which show you watched in the first night of head to head competition of two new episodes of fanatical favorites Supernatural and Fringe. So what did we learn? At least one thing is that Sam McPherson was not a harbinger of death, as he was portrayed, famously, in the Fringe Fridays promo spot.
There is absolutely no doubt that Fringe fans and Supernatural fans are, indeed, obsessed. This should come as no surprise as Supernatural fans handily won the TV Guide Cover Poll award for show most worthy of a spot on the cover of the coveted TV Guide magazine. Of course, Fringe was not in that contest and the poll wasn't conducted on our own site, so the results of neither are exactly scientific. But, who cares? In our poll, I said we were a pretend Nielsen universe (a worthy title, given the circumstances) so what we say goes in this instance.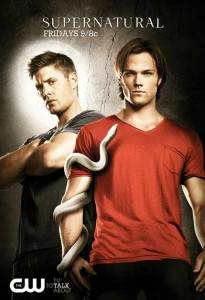 While there were not a plethora of comments, those who did comment mainly voted one show or the other. Ok, it was rather rabid. The results swung back and forth for days, sometimes quite dramatically. You fans really do call out when the fight is on, of that we can be assured. Without comments to support the findings, I don't know if it was a tough decision for the masses. For those that commented, mostly no contest. One show resoundingly won in the eyes of the commenter. There were a few of us who noted our cities now made it easier for us to choose, because our CW affiliate changed the rules and the shows are no longer in competition.
The end result of all this infighting? Fringe won, 54% to 45%. While voting is still open, the results as of this posting are pictured below: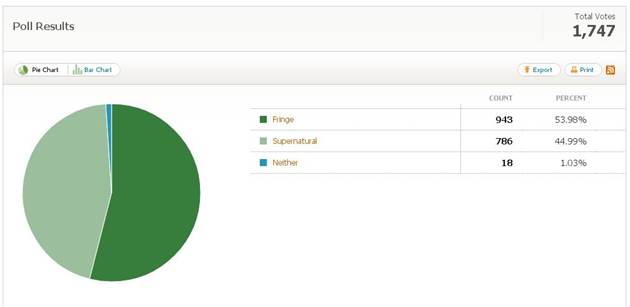 So, we TVO readers, in our own little world, would watch Fringe over Supernatural. Even with Dawn Ostroff letting go of the reins of The CW, Supernatural seems very likely to be renewed, and we fans will fight for the show to stay on the air.
Fringe, with it's recent move to Fridays on a network with mega-hits like American Idol is in a more perilous position. The Executive Producers, Jeff Pinkner and J.H. Wyman were upbeat today about the network's interest and support in the show, but we've all been there before. They have the show mapped out past season five, promise another jaw-dropping finale (admit it – Fringe has delivered excellent season finales) and not to expect things in the Fringe world to follow the footed path.
In my world, they both survive and we are all happy and supernatural events and alternate universes continue to rule Friday nights for years to come. I know, even if you're infatuated with one show over the other, your wish is the same.