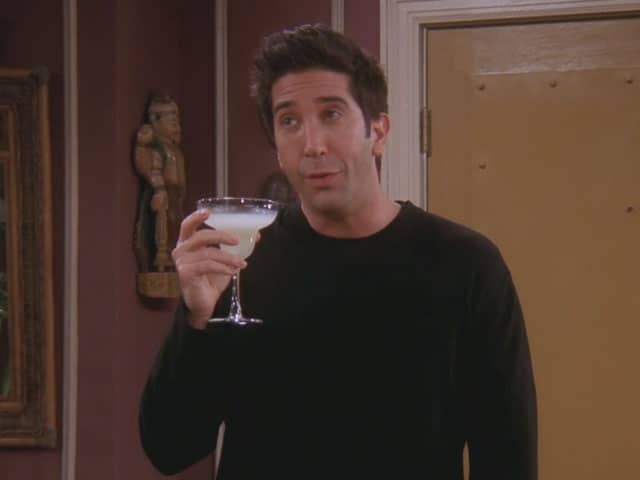 David Schwimmer spent 10 years playing Ross Geller, the lovable older brother of Monica and the love interest of Rachel on the hit NBC comedy Friends. Over the course of ten seasons, Ross got divorced three times and had two kids. Though he may not be everyone's favorite character, he sure did have plenty of hilarious moments. Take a look at our six favorite, which includes moving a couch and trying to flirt.
6. Ross Geller Walks his Ex down the Aisle (Season 2)
Ross Geller was devastated when he found out that his first wife Carol was a lesbian and they would be getting a divorce. Even though the two were no longer together, they continued to remain close and raise their son Ben. Ross showed us just how great of a guy he was when he fills in for Carol's dad and walks her down the aisle on her big day.
5. Ross Geller Protects his Book (Season 7)
Ross is beyond excited when his doctoral dissertation can be found in the school's library. When he goes to check it out, he realizes the area the book is found is a meeting place for college students to hook up. In order to protect the sanctity of his book, he stands guard only to be removed from the library for the same reason he was playing hall monitor all along.
4. Ross Geller Tries to Flirt (Season 5)
Ross has never had a way with the ladies. It is quite surprising that he was even able to get someone like Rachel Green. When the gang ordered a pizza when watching Joey on TV, Ross notices the cute delivery girl. His flirting with her turns into an odd and hilarious conversation about gas. Rachel saves the day and tells the delivery girl what was actually happening.
3. Ross Geller Moves His Couch (Season 5)
Ross Geller thought buying a new couch would be simple. However, when he sees the delivery charge he decides to take matter into his own hands. With the help of Rachel and Chandler, Ross tries to move his new piece of furniture up the narrow stairwell. The end result is Ross screaming, "Pivot" over and over until Chandler tells him to, "Shut Up."
2. Ross Geller Naps with Joey (Season 7)
Ross Geller always seemed to be the odd man out when hanging out with best buds Chandler Bing and Joey Tribbiani. However, watching a movie with the guys turns into some special male bonding with just Ross and Joey. The two enjoy their nap so much that they decide to do it again. This time they awake to the rest of the Friends gang watching in amusement.
1. Ross Geller is Fine (Season 10)
Ross Geller clearly was not fine when he found out that Rachel and Joey were dating. He was not the only one who felt this way as viewers were just as upset about the romance between the two friends. In order to show just how fine he was, Ross decides to throw a Mexican fiesta dinner for the two. He ends up getting drunk and delivers our favorite Ross moment from all 10 season of Friends. 
What is your favorite Ross Geller moment? Let us know in the comments section below.
Photo by: NBC